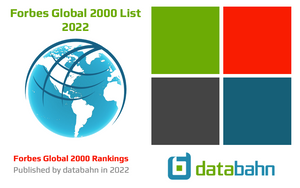 databahn
2022 Forbes Global 2000 Companies List | Excel Spreadsheet download file
Sale price Price $ 19.50 Regular price
2022 Forbes Global 2000 List | Excel spreadsheet download file
November 1, 2022
Please download the 2022 Forbes Global 2000 list as an Excel spreadsheet.
The fields in the 2022 Forbes Global 2000 list include GLOBAL RANKS | COMPANY NAMES | INDUSTRY SECTORS | BUSINESS DESCRIPTIONS | HEADQUARTERS COUNTRIES | HEADQUARTERS CITIES | YEAR FOUNDED | CEO NAMES | ANNUAL REVENUES | PROFITS | ASSETS | MARKET VALUATIONS | OTHER KEY FINANCIAL DATA & METRICS
Would you like to see the first 50 companies in the 2022 Forbes Global 2000 list? Download the FREE Forbes Global 2000 list sample spreadsheet to see what's in the spreadsheet.
And, please consider leaving a review with a nice comment about the value you see in the Forbes Global 2000 companies list along with a five star ⭐⭐⭐⭐⭐  review. Thank you.
      ⮕ Looking for specific Contact Information?
      ⮕ Need to update company records in your CRM system?
      ⮕ Need to see department Budget information?
      ⮕ Would it help to know what your Competitors are doing?
      ⮕ What else are you looking for?
Please send us an email with your request and someone will respond within 24 hours. info@databahn.com 
Top Reasons to download and use the 2022 Forbes Global 2000 List:

See what companies were acquired and merged in 2021
Identify your best sales & marketing targets by Country, Industry, Revenue, and Employee Count
Determine how large or small your target market is by Country, Industry, Revenue, and Employee Count
Refresh your CRM records with current and up-to-date information
Size up sales territories for your sales teams
Identify other sales prospects in your target industries
Sort by Revenue, Market Cap, Industry, Headquarters Country, and Employee Count
Please add it to your Cart and go through the Checkout process. 
| | | | | | | |
| --- | --- | --- | --- | --- | --- | --- |
| 2022 GLOBAL 2000 RANK | COMPANY NAME | HEADQUARTERS COUNTRY | REVENUE (MILLIONS USD)  | CEO NAME | YEAR FOUNDED | INDUSTRY |
| 1 | Berkshire Hathaway | United States | $276.09B | Warren Edward Buffett | 1939 | Diversified Financials |
| 2 | ICBC | China | $208.13B | Shu Gu | 2011 | Banking |
| 3 | Saudi Arabian Oil Company (Saudi Aramco) | Saudi Arabia | $400.38B | Amin bin Hasan Al-Nasser | 1933 | Oil & Gas Operations |
| 4 | JPMorgan Chase | United States | $124.54B | James Dimon | 1968 | Diversified Financials |
| 5 | China Construction Bank | China | $202.07B | Wang Zuji | 2014 | Banking |
| 6 | Amazon | United States | $469.82B | Andrew R. Jassy | 1994 | Retailing |
| 7 | Apple | United States | $378.7B | Timothy Donald Cook | 1976 | Technology Hardware & Equipment |
| 8 | Agricultural Bank of China | China | $181.42B | Huan Zhao | 1951 | Banking |
| 9 | Bank of America | United States | $96.83B | Brian T. Moynihan | 1904 | Banking |
| 10 | Toyota Motor | Japan | $281.75B | Akio Toyoda | 1937 | Consumer Durables |
| 11 | Alphabet | United States | $257.49B | Sundar Pichai | 1998 | IT Software & Services |
| 12 | Microsoft | United States | $184.9B | Satya Nadella | 1975 | IT Software & Services |
| 13 | Bank of China | China | $152.42B | Wang Jiang | 1929 | Banking |
| 14 | Samsung Group | South Korea | $244.16B | Hyun-Suk Kim, Kinam Kim | 1938 | Technology Hardware & Equipment |
| 15 | ExxonMobil | United States | $280.51B | Darren W. Woods | 1999 | Oil & Gas Operations |
| 16 | Shell | United Kingdom | $261.76B | Bernardus van Beurden | 1907 | Oil & Gas Operations |
| 17 | Ping An Insurance Group | China | $181.37B | Xin Ying Chen, Ming Zhe Ma | 1988 | Insurance |
| 18 | Wells Fargo | United States | $84.12B | Charles William Scharf | 1852 | Banking |
| 19 | Verizon Communications | United States | $134.35B | Hans Erik Vestberg | 1983 | Telecommunications Services |
| 20 | AT&T | United States | $163.02B | John T. Stankey | 1983 | Telecommunications Services |
| 21 | PetroChina | China | $380.31B | Yi Lin Wang | 1999 | Oil & Gas Operations |
| 22 | UnitedHealth Group | United States | $297.55B | Andrew Philip Witty | 1977 | Insurance |
| 23 | Walmart | United States | $572.75B | C. Douglas McMillon | 1962 | Retailing |
| 24 | China Merchants Bank | China | $71.07B | Hui Yu Tian | 2009 | Banking |
| 25 | Volkswagen Group | Germany | $295.73B | Herbert Diess | 1937 | Consumer Durables |
| 26 | Chevron | United States | $156.29B | Michael K. Wirth | 1879 | Oil & Gas Operations |
| 27 | Citigroup | United States | $79.94B | Jane Nind Fraser | 1812 | Diversified Financials |
| 28 | Tencent Holdings | China | $86.86B | Hua Teng Ma | 1998 | IT Software & Services |
| 29 | Total | France | $185.12B | Patrick Pouyanné | 1924 | Oil & Gas Operations |
| 30 | Postal Savings Bank Of China (PSBC) | China | $77.61B | Xue Wen Zhang | 1919 | Banking |
| 31 | China Mobile | Hong Kong | $131.49B | Xin Dong | 1997 | Telecommunications Services |
| 32 | Comcast | United States | $116.38B | Brian L. Roberts | 1963 | Media |
| 33 | Alibaba Group | China | $129.76B | Yong Zhang | 1999 | Retailing |
| 34 | Meta Platforms | United States | $117.93B | Mark Elliot Zuckerberg | 2004 | IT Software & Services |
| 35 | Allianz | Germany | $138.62B | Oliver Bäte | 1890 | Insurance |
| 36 | Morgan Stanley | United States | $60.22B | James Patrick Gorman | 1924 | Diversified Financials |
| 37 | Goldman Sachs Group | United States | $62.81B | David Michael Solomon | 1869 | Diversified Financials |
| 38 | HSBC Holdings | United Kingdom | $59.33B | Noel Paul Quinn | 1865 | Banking |
| 39 | Johnson & Johnson | United States | $94.88B | Joaquin Duato | 1886 | Drugs & Biotechnology |
| 39 | BNP Paribas | France | $127.42B | Jean-Laurent Bonnafé | 1913 | Banking |
| 41 | Mercedes-Benz Group | Germany | $178.94B | Ola Källenius | 1886 | Consumer Durables |
| 42 | CVS Health | United States | $291.98B | Karen S. Lynch | 1963 | Retailing |
| 43 | Pfizer | United States | $81.49B | Albert Bourla | 1849 | Drugs & Biotechnology |
| 44 | Softbank | Japan | $96.86B | Masayoshi Son | 1981 | Telecommunications Services |
| 45 | Sinopec | China | $384.82B | Yong Sheng Ma | 2000 | Oil & Gas Operations |
| 46 | Nestlé | Switzerland | $95.26B | Ulf Mark Schneider | 1866 | Food, Drink & Tobacco |
| 46 | RBC | Canada | $45.24B | David Ian McKay | 1864 | Banking |
| 48 | AXA Group | France | $145.19B | Thomas Buberl | 1816 | Insurance |
| 49 | Gazprom | Russia | $117.3B | Alexei Borisovich Miller | 1989 | Oil & Gas Operations |
| 50 | BP | United Kingdom | $158.01B | Bernard Looney | 1909 | Oil & Gas Operations |
| 51 | Intel | United States | $79.02B | Patrick P. Gelsinger | 1968 | Semiconductors |
| 52 | TD Bank Group | Canada | $38.51B | Bharat B. Masrani | 1955 | Banking |
| 52 | Nippon Telegraph & Tel | Japan | $110.39B | Jun Sawada | 1952 | Telecommunications Services |
| 54 | Reliance Industries | India | $86.85B | Mukesh Dhirubhai Ambani | 1973 | Oil & Gas Operations |
| 55 | Industrial Bank  | China | $60.53B | Yiping Tao | 1988 | Banking |
| 56 | Sony | Japan | $89.9B | Kenichiro Yoshida | 1946 | Consumer Durables |
| 57 | Taiwan Semiconductor | Taiwan | $61.47B | Che Chia Wei | 1987 | Semiconductors |
| 57 | Santander | Spain | $78.22B | José Antonio Álvarez | 1857 | Banking |
| 59 | Mitsubishi UFJ Financial | Japan | $48.28B | Hironori Kamezawa | 2012 | Banking |
| 60 | Ford Motor | United States | $136.34B | James D. Farley Jr. | 1903 | Consumer Durables |
| 60 | LVMH Moët Hennessy Louis Vuitton | France | $75.9B | Bernard Arnault | 1987 | Household & Personal Products |
| 62 | Bank of Communications | China | $76B | Ren Deqi | 1908 | Banking |
| 63 | Procter & Gamble | United States | $79.62B | Jon R. Moeller | 1837 | Household & Personal Products |
| 64 | BMW Group | Germany | $131.48B | Oliver Zipse | 1975 | Consumer Durables |
| 65 | Petrobras | Brazil | $83.89B | José Mauro Ferreira | 1953 | Oil & Gas Operations |
| 66 | Deutsche Telekom | Germany | $128.59B | Timotheus Höttges | 1995 | Telecommunications Services |
| 67 | AbbVie | United States | $56.2B | Richard A. Gonzalez | 2013 | Drugs & Biotechnology |
| 68 | Novartis | Switzerland | $51.63B | Vasant Narasimhan | 1996 | Drugs & Biotechnology |
| 69 | General Motors | United States | $127B | Mary Teresa Barra | 1908 | Consumer Durables |
| 70 | Equinor | Norway | $88.37B | Anders Opedal | 1972 | Oil & Gas Operations |
| 71 | China Life Insurance | China | $130.5B | Heng Xuan Su | 2003 | Insurance |
| 72 | Roche Holding | Switzerland | $68.69B | Severin Schwan | 1896 | Drugs & Biotechnology |
| 73 | AIA Group | Hong Kong | $45.16B | Yuan Xiang Li | 1919 | Insurance |
| 74 | MetLife | United States | $71.08B | Michel A. Khalaf | 1868 | Insurance |
| 75 | BHP Group | Australia | $65.55B | Mike Henry | 1885 | Materials |
| 76 | The Home Depot | United States | $151.16B | Edward P. Decker | 1978 | Retailing |
| 77 | American Express | United States | $46.29B | Stephen J. Squeri | 1850 | Diversified Financials |
| 77 | Siemens | Germany | $76.46B | Roland Emil Busch | 1847 | Conglomerates |
| 79 | Stellantis | Netherlands | $176.61B | Carlos Tavares | 2014 | Consumer Durables |
| 80 | Zurich Insurance Group | Switzerland | $69.58B | Mario Greco | 1872 | Insurance |
| 81 | Rosneft | Russia | $111.4B | Igor Ivanovich Sechin | 1993 | Oil & Gas Operations |
| 82 | Rio Tinto | United Kingdom | $63.46B | Jakob Stausholm | 1873 | Materials |
| 83 | Brookfield Asset Management | Canada | $78.82B | James Bruce Flatt | 1997 | Diversified Financials |
| 84 | Cigna | United States | $174.27B | David Michael Cordani | 1981 | Insurance |
| 85 | Prudential Financial | United States | $70.93B | Charlie F. Lowrey Jr. | 1875 | Diversified Financials |
| 86 | PepsiCo | United States | $79.47B | Ramon Luis Laguarta | 1965 | Food, Drink & Tobacco |
| 87 | Merck & Co. | United States | $50.37B | Robert M. Davis | 1891 | Drugs & Biotechnology |
| 88 | Anthem | United States | $144.35B | Gail Koziara Boudreaux | 1944 | Drugs & Biotechnology |
| 89 | Bank of Nova Scotia | Canada | $30.35B | Brian Johnston Porter | 1832 | Banking |
| 90 | American International Group | United States | $52.06B | Peter S. Zaffino | 1919 | Insurance |
| 91 | Glencore International | Switzerland | $203.41B | Gary Nagle | 1974 | Materials |
| 92 | Cisco Systems | United States | $51.55B | Charles H. Robbins | 1984 | Technology Hardware & Equipment |
| 93 | Anheuser-Busch InBev | Belgium | $54.33B | Michel Dimitrios Doukeris | 1977 | Food, Drink & Tobacco |
| 94 | Walt Disney | United States | $72.98B | Robert A. Chapek | 1923 | Media |
| 95 | Chubb | Switzerland | $40.96B | Evan G. Greenberg | 1985 | Insurance |
| 96 | Lloyds Banking Group | United Kingdom | $58.48B | Charlie Nunn | 1985 | Banking |
| 96 | CITIC | Hong Kong | $91.21B | Zhen Ming Chang | 1979 | Trading Companies |
| 98 | IBM | United States | $67.25B | Arvind Krishna | 1911 | IT Software & Services |
| 99 | Sanofi  | France | $44.63B | Paul Hudson | 1973 | Drugs & Biotechnology |
| 100 | United Parcel Service | United States | $97.2B | Carol B. Tomé | 1907 | Transportation |
| 101 | British American Tobacco | United Kingdom | $35.32B | Jack Bowles | 1902 | Food, Drink & Tobacco |
| 102 | UBS | Switzerland | $35.22B | Ralph Hamers | 1862 | Banking |
| 103 | Honda Motor | Japan | $130.16B | Toshihiro Mibe | 1959 | Consumer Durables |
| 104 | Mitsubishi | Japan | $146.94B | Takehiko Kakiuchi | 1870 | Trading Companies |
| 105 | China State Construction Engineering | China | $205.79B | Xiang Ming Wang | 1982 | Construction |
| 105 | State Bank of India | India | $54.42B | Swaminathan Janakiraman | 1921 | Banking |
| 107 | Commonwealth Bank | Australia | $21.85B | Matthew Comyn | 1911 | Banking |
| 108 | Shanghai Pudong Development | China | $54.77B | Guo Fu Gao | 1992 | Banking |
| 109 | Raytheon Technologies | United States | $64.36B | Gregory J. Hayes | 1934 | Aerospace & Defense |
| 110 | Enel | Italy | $99.41B | Francesco Starace | 1962 | Utilities |
| 111 | Eni | Italy | $90.5B | Claudio Descalzi | 1953 | Oil & Gas Operations |
| 112 | Capital One | United States | $32.12B | Richard D. Fairbank | 1994 | Banking |
| 113 | Bristol Myers Squibb | United States | $46.38B | Giovanni Caforio | 1887 | Drugs & Biotechnology |
| 114 | Coca-Cola | United States | $38.73B | James Quincey | 1886 | Food, Drink & Tobacco |
| 115 | Oracle | United States | $41.83B | Safra Ada Catz | 1977 | IT Software & Services |
| 116 | Sberbank | Russia | $57.37B | Herman Oskarovich Gref | 1841 | Banking |
| 117 | Bank of Montreal | Canada | $26.53B | Darryl White | 1817 | Banking |
| 118 | Vale | Brazil | $54.4B | Eduardo De Salles Bartolomeo | 1942 | Materials |
| 119 | EDF  | France | $99.83B | Jean-Bernard Levy | 1955 | Utilities |
| 120 | Thermo Fisher Scientific | United States | $39.21B | Marc N. Casper | 1960 | Health Care Equipment & Services |
| 121 | Credit Agricole | France | $73.61B | Philippe Brassac | 2000 | Banking |
| 122 | AIRBUS | Netherlands | $61.64B | Guillaume Faury | 1998 | Aerospace & Defense |
| 123 | Costco Wholesale | United States | $210.22B | Walter Craig Jelinek | 1983 | Retailing |
| 124 | Hon Hai Precision  | Taiwan | $214.6B | Yang-wei Liu | 1974 | Technology Hardware & Equipment |
| 125 | Unilever | United Kingdom | $62B | Alan Jope | 1977 | Household & Personal Products |
| 126 | Charter Communications | United States | $51.68B | Thomas M. Rutledge | 1993 | Media |
| 127 | Sumitomo Mitsui Financial | Japan | $35.5B | Jun Ohta | 2002 | Banking |
| 128 | ConocoPhillips | United States | $46.06B | Ryan M. Lance | 1875 | Oil & Gas Operations |
| 129 | GlaxoSmithKline | United Kingdom | $46.92B | Emma N. Walmsley | 2000 | Drugs & Biotechnology |
| 130 | Intesa Sanpaolo | Italy | $47.84B | Carlo Messina | 2007 | Banking |
| 131 | Manulife | Canada | $47.18B | Roy Gori | 1999 | Insurance |
| 132 | US Bancorp | United States | $23.12B | Andrew J. Cecere | 1929 | Banking |
| 133 | BASF | Germany | $92.9B | Martin Brudermüller | 1865 | Chemicals |
| 134 | CNOOC | Hong Kong | $37.77B | Xin Huai Zhou | 1999 | Oil & Gas Operations |
| 135 | Abbott Laboratories | United States | $44.51B | Robert B. Ford | 1888 | Health Care Equipment & Services |
| 136 | Iberdrola | Spain | $46.23B | José Ignacio Sánchez Galán | 1992 | Utilities |
| 137 | China Shenhua Energy | China | $52.02B | Zhi Ren Lu | 2004 | Materials |
| 138 | Itaú Unibanco Holding | Brazil | $35.96B | Milton Maluhy Filho | 1944 | Banking |
| 139 | Caterpillar | United States | $50.98B | Donald James Umpleby III | 1925 | Capital Goods |
| 140 | Mitsui | Japan | $108.31B | Kenichi Hori | 1947 | Trading Companies |
| 141 | Itochu | Japan | $107.99B | Masahiro Okafuji | 1858 | Trading Companies |
| 142 | Charles Schwab | United States | $18.98B | Walter William Bettinger III | 1986 | Diversified Financials |
| 143 | Truist Financial | United States | $23.19B | William Henry Rogers Jr. | 1872 | Banking |
| 144 | Enbridge | Canada | $37.55B | Albert Monaco | 1949 | Oil & Gas Operations |
| 145 | Hitachi | Japan | $91.9B | Toshiaki Higashihara | 1910 | Conglomerates |
| 146 | KDDI | Japan | $49.17B | , Tomonari Sato | 1984 | Telecommunications Services |
| 147 | Hyundai Motor | South Korea | $102.7B | Eui-Sun Chung | 1967 | Consumer Durables |
| 148 | Visa | United States | $25.48B | Alfred F. Kelly Jr. | 1958 | Business Services & Supplies |
| 149 | China Citic Bank | China | $56.99B | He Ying Fang | 1987 | Banking |
| 150 | Target | United States | $106B | Brian C. Cornell | 1902 | Retailing |
| 151 | Tesla | United States | $53.82B | Elon Reeve Musk | 2003 | Consumer Durables |
| 152 | BBVA-Banco Bilbao Vizcaya | Spain | $41.98B | Onur Genç | 1999 | Banking |
| 153 | Deere & Company | United States | $44.46B | John C. May II | 1837 | Capital Goods |
| 154 | HDFC Bank | India | $22.51B | Sashidhar Jagdishan | 1994 | Banking |
| 155 | Barclays | United Kingdom | $30.17B | C. S. Venkatakrishnan | 1896 | Banking |
| 156 | Munich Re | Germany | $84.88B | Joachim Wenning PhD | 1866 | Insurance |
| 157 | Japan Post Holdings | Japan | $103.58B | Hiroya Masuda | 1871 | Insurance |
| 158 | Walgreens | United States | $135.95B | Rosalind Gates Brewer | 1901 | Retailing |
| 159 | Danaher | United States | $30.28B | Rainer M. Blair | 1984 | Conglomerates |
| 160 | Generali Group | Italy | $102.13B | Philippe Donnet | 1831 | Insurance |
| 161 | Møller-Maersk | Denmark | $61.95B | Søren Skou | 2009 | Transportation |
| 162 | Lowe's | United States | $96.25B | Marvin R. Ellison | 1921 | Retailing |
| 163 | FedEx | United States | $91.55B | Frederick W. Smith | 1971 | Transportation |
| 164 | Deutsche Post | Germany | $96.62B | Frank Appel | 1995 | Transportation |
| 165 | PNC Financial Services | United States | $19.93B | William Stanton Demchak | 1983 | Banking |
| 166 | Broadcom | United States | $28.5B | Hock E. Tan | 1961 | Semiconductors |
| 167 | Medtronic | Ireland | $31.78B | Geoffrey Straub Martha | 1949 | Health Care Equipment & Services |
| 167 | LukOil | Russia | $125.11B | Vadim Nikolayevich Vorobyov | 1991 | Oil & Gas Operations |
| 169 | SAP | Germany | $33.18B | Christian Klein | 1972 | IT Software & Services |
| 170 | SK Hynix | South Korea | $37.55B | Seok-Hee Lee | 1949 | Semiconductors |
| 171 | ENGIE  | France | $68.4B | Catherine MacGregor | 1946 | Oil & Gas Operations |
| 172 | Lockheed Martin | United States | $65.75B | James D. Taiclet Jr. | 1912 | Aerospace & Defense |
| 173 | BlackRock | United States | $20.3B | Laurence Douglas Fink | 1988 | Diversified Financials |
| 174 | Westpac Banking Group | Australia | $20.46B | Peter Francis King | 1817 | Banking |
| 175 | Duke Energy | United States | $25.1B | Lynn J. Good | 1904 | Utilities |
| 176 | Dell Technologies | United States | $106.84B | Michael Saul Dell | 1984 | Technology Hardware & Equipment |
| 177 | VINCI | France | $59.08B | Xavier Huillard | 1899 | Construction |
| 178 | Tokio Marine Holdings | Japan | $50.57B | Satoru Komiya | 2002 | Insurance |
| 179 | América Móvil | Mexico | $48.37B | Daniel Hajj Aboumrad | 2000 | Telecommunications Services |
| 180 | E.ON | Germany | $91.44B | Leonhard Birnbaum | 1929 | Utilities |
| 181 | Anglo American | United Kingdom | $41.52B | Duncan Graham Wanblad | 1917 | Materials |
| 182 | Banco Bradesco | Brazil | $28.33B | Octávio de Lazari Jr. | 1943 | Banking |
| 183 | Accenture | Ireland | $56.7B | Julie Spellman Sweet | 1989 | IT Software & Services |
| 183 | ING Group | Netherlands | $21.49B | Steven van Rijswijk | 1991 | Diversified Financials |
| 185 | Honeywell International | United States | $34.39B | Darius Adamczyk | 1927 | Conglomerates |
| 186 | Mizuho Financial | Japan | $26.76B | Masahiro Kihara | 2003 | Banking |
| 187 | Linde | United Kingdom | $30.79B | Sanjiv Lamba | 1879 | Chemicals |
| 188 | ArcelorMittal | Luxembourg | $76.65B | Aditya Mittal | 2001 | Materials |
| 189 | Canadian Imperial Bank | Canada | $18.66B | Victor Dodig | 1867 | Banking |
| 190 | Poly Developments & Holdings Group | China | $42.94B | Dong Li Zhou | 1992 | Construction |
| 191 | Micron Technology | United States | $31.17B | Sanjay Mehrotra | 1978 | Semiconductors |
| 192 | ANZ | Australia | $18.38B | Shayne Cary Elliott | 1835 | Banking |
| 193 | Fubon Financial | Taiwan | $33.23B | Yue Han | 2001 | Insurance |
| 194 | China Telecom | China | $68.15B | Rui Wen Ke | 2002 | Telecommunications Services |
| 195 | HCA Healthcare | United States | $59.72B | Samuel N. Hazen | 1968 | Health Care Equipment & Services |
| 196 | Telefónica | Spain | $46.42B | José María Álvarez-Pallete López | 1924 | Telecommunications Services |
| 196 | Dow | United States | $58.35B | James R. Fitterling | 1897 | Chemicals |
| 198 | China Vanke | China | $71.42B | Jiu Sheng Zhu | 1984 | Construction |
| 199 | NAB - National Australia Bank | Australia | $15.76B | Ross Maxwell McEwan | 1981 | Banking |
| 200 | Cathay Financial | Taiwan | $34.46B | Chang Li | 1975 | Insurance |
| 201 | Qualcomm | United States | $36.04B | Cristiano R. Amon | 1985 | Semiconductors |
| 202 | L'Oréal | France | $38.16B | Nicolas Hieronimus | 1909 | Household & Personal Products |
| 203 | Allstate | United States | $50.59B | Thomas Joseph Wilson II | 1931 | Insurance |
| 204 | SAIC Motor | China | $121.42B | Zhi Xin Chen | 1995 | Consumer Durables |
| 205 | ICICI Bank | India | $21.89B | Sandeep Bakhshi | 1994 | Banking |
| 206 | China Everbright Bank | China | $42.38B | Haijiao Ge | 1992 | Banking |
| 207 | Gilead Sciences | United States | $27.37B | Daniel P. O'Day | 1987 | Drugs & Biotechnology |
| 208 | China Pacific Insurance | China | $68.07B | Yan Hong Pan, Takashi Kayamoto | 1991 | Insurance |
| 209 | NVIDIA | United States | $26.91B | Jen Hsun Huang | 1993 | Semiconductors |
| 210 | Amgen | United States | $25.99B | Robert A. Bradway | 1980 | Drugs & Biotechnology |
| 211 | Union Pacific | United States | $22.66B | Lance M. Fritz | 1862 | Transportation |
| 212 | Nike | United States | $46.89B | John J. Donahoe II | 1964 | Household & Personal Products |
| 213 | Dai-ichi Life Insurance | Japan | $66.73B | Seiji Inagaki | 1902 | Insurance |
| 213 | Takeda Pharmaceutical | Japan | $31.54B | Christophe Weber | 1781 | Drugs & Biotechnology |
| 215 | Philip Morris International | United States | $31.51B | Jacek Olczak | 1847 | Food, Drink & Tobacco |
| 216 | PayPal | United States | $25.56B | Daniel H. Schulman | 1998 | Business Services & Supplies |
| 217 | China Resources Land | Hong Kong | $33.61B | Yong Tang | 1994 | Construction |
| 218 | Oversea-Chinese Banking | Singapore | $22.89B | Pik Kuen Wong | 1932 | Banking |
| 219 | Midea Group | China | $50.6B | Hong Bo Fang | 1968 | Consumer Durables |
| 220 | Travelers | United States | $35.31B | Alan D. Schnitzer | 1853 | Insurance |
| 221 | Eli Lilly | United States | $28.32B | David A. Ricks | 1876 | Drugs & Biotechnology |
| 222 | Mondelez International | United States | $28.72B | Dirk van de Put | 1903 | Food, Drink & Tobacco |
| 223 | McDonald's | United States | $23.22B | Christopher J. Kempczinski | 1955 | Hotels, Restaurants & Leisure |
| 224 | General Electric | United States | $74.08B | H. Lawrence Culp Jr. | 1878 | Conglomerates |
| 225 | Société Générale | France | $35.57B | Frédéric Oudéa | 1864 | Banking |
| 226 | Schneider Electric | France | $34.16B | Jean-Pascal Tricoire | 1836 | Capital Goods |
| 227 | 3M | United States | $35.36B | Michael F. Roman | 1902 | Conglomerates |
| 228 | Aflac | United States | $22.11B | Daniel Paul Amos | 1955 | Insurance |
| 229 | Oil & Natural Gas | India | $66.28B | Alka Mittal | 1956 | Oil & Gas Operations |
| 230 | Southern Company | United States | $23.23B | Thomas A. Fanning | 1945 | Utilities |
| 231 | Deutsche Bank | Germany | $36.7B | Christian Sewing | 1870 | Banking |
| 232 | PTT  | Thailand | $70.55B | Auttapol Rerkpiboon | 1978 | Oil & Gas Operations |
| 233 | CK Hutchison | Hong Kong | $36.13B | Tzar Kuoi Li | 2014 | Conglomerates |
| 234 | Canadian Natural Resources | Canada | $23.97B | Murray Edwards | 1973 | Oil & Gas Operations |
| 235 | Sun Life Financial | Canada | $29.82B | Kevin D. Strain | 1865 | Diversified Financials |
| 236 | Northrop Grumman | United States | $35.67B | Kathy J. Warden | 1939 | Aerospace & Defense |
| 237 | Archer Daniels Midland | United States | $85.26B | Juan Ricardo Luciano | 1902 | Food, Drink & Tobacco |
| 238 | Marathon Petroleum | United States | $119.78B | Michael J. Hennigan | 1887 | Oil & Gas Operations |
| 239 | China Minsheng Bank | China | $50.08B | Wan Chun Zheng | 1996 | Banking |
| 240 | Legal & General Group | United Kingdom | $62.51B | Nigel David Wilson | 1981 | Insurance |
| 241 | Netflix | United States | $30.4B | Reed Hastings Ted Sarandos | 1997 | Media |
| 242 | Progressive | United States | $48.07B | Susan Patricia Griffith | 1937 | Insurance |
| 243 | Longfor Group Holdings | China | $34.8B | Xu Ping Chen | 1993 | Construction |
| 244 | Cosco Shipping | China | $51.77B | Zhi Jian Yang | 2005 | Transportation |
| 244 | DBS | Singapore | $12.4B | Piyush Gupta | 1968 | Banking |
| 246 | China Communications Construction | China | $108.41B | Qi Tao Liu | 2006 | Construction |
| 247 | NatWest Group | United Kingdom | $17.86B | Alison Marie Rose-Slade | 1968 | Banking |
| 248 | Humana | United States | $84.09B | Bruce Dale Broussard | 1961 | Drugs & Biotechnology |
| 248 | Exelon | United States | $39.27B | Christopher M. Crane | 1999 | Utilities |
| 250 | General Dynamics | United States | $38.47B | Phebe N. Novakovic | 1952 | Aerospace & Defense |
| 251-2000 | Download the 2022 Forbes Global 2000 list to see 251 to 2000 |   |   |   |   |   |
CLICK HERE TO ADD THE FORBES GLOBAL 2000 LIST TO YOUR CART AND CHECKOUT