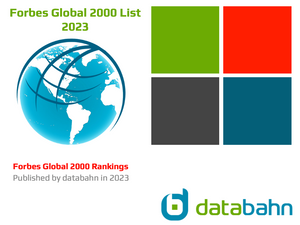 databahn
2024 Forbes Global 2000 Companies List | Excel Spreadsheet download file
Sale price Price $ 19.50 Regular price
2024 Forbes Global 2000 List | Excel spreadsheet download file
October 28, 2023
Please download the 2023 Forbes Global 2000 list as an Excel spreadsheet.
The fields in the 2023 Forbes Global 2000 list include GLOBAL RANK | COMPANY NAMES | INDUSTRY SECTORS | BUSINESS DESCRIPTIONS | HEADQUARTERS COUNTRIES | HEADQUARTERS CITIES | YEAR FOUNDED | CEO NAMES | ANNUAL REVENUES | PROFITS | ASSETS | MARKET VALUATIONS | OTHER KEY FINANCIAL DATA & METRICS
 Would you like to see the first 50 companies in the 2023 Forbes Global 2000 list? Download the FREE Forbes Global 2000 list sample spreadsheet to see what's in the spreadsheet.
And, please consider leaving a review with a nice comment about the value you see in the Forbes Global 2000 companies list along with a five star ⭐⭐⭐⭐⭐  review. Thank you.
      ⮕ Looking for specific Contact Information?
      ⮕ Need to update company records in your CRM system?
      ⮕ Need to see department Budget information?
      ⮕ Would it help to know what your Competitors are doing?
      ⮕ What else are you looking for?
Please send us an email with your request and someone will respond within 24 hours. info@databahn.com 
Top Reasons to download and use the 2024 Forbes Global 2000 List:
See what companies were acquired and merged in 2022
Identify your best sales & marketing targets by Country, Industry, Revenue, and Employee Count
Determine how large or small your target market is by Country, Industry, Revenue, and Employee Count
Refresh your CRM records with current and up-to-date information
Size up sales territories for your sales teams
Identify other sales prospects in your target industries
Sort by Revenue, Market Cap, Industry, Headquarters Country, and Employee Count
2024 Global 2000 List
This year commemorates the 20th anniversary of the Global 2000, the comprehensive examination of the world's largest publicly traded companies. The 2024 Global 2000 list was released on June 8, 2023.

The compilation of the Global 2000 list follows the same methodology employed since 2003. The list leverages 3rd party data sets to identify the largest public companies based on four key metrics: sales, profits, assets, and market value. Market value calculations reflect closing prices as of May 5, 2023, encompassing all outstanding common shares.

All figures are consolidated and denominated in U.S. dollars. The financial data used for the rankings corresponds to the latest 12-month period available as of May 5, 2023. The G2000 list relies extensively on databases for data sourcing, considering the timeliness of data collection, company reporting policies, country-specific reporting guidelines, and the time lag between data release and database inclusion. The data is quality checked by cross-referencing with other data sources and also by reviewing available company financial statements.

To begin, four separate lists are generated consisting of the 2000 largest companies in each metric: sales, profits, assets, and market value. To qualify for the final Global 2000 ranking, a company must meet a minimum cutoff value on at least one of these lists: sales ($5.9 billion), profits ($423 million), assets ($13.8 billion), or market value ($6.3 billion).

This year, 3,550 companies were required to fill the four lists, with each company qualifying for at least one. Each company receives a score for each metric based on its position in the respective list. The scores are aggregated for all four metrics (equally weighted) to compile a composite score that determines a company's rank. The ranking is then established by sorting the companies in descending order based on their composite scores.

The Global 2000 list excludes publicly traded subsidiaries that are consolidated by their parent company. In most countries, consolidation occurs when the parent company's ownership (control) of the subsidiary's stock exceeds 50%. However, some accounting rules permit consolidation with less than 50% ownership.
| | | | | | | |
| --- | --- | --- | --- | --- | --- | --- |
| 2024 GLOBAL 2000 RANK | COMPANY NAME | SALES | CITY STATE HEADQUARTERS | COUNTRY HEADQUARTERS | INDUSTRY SECTOR | EMPLOYEE COUNT |
| 1 | JPMorgan Chase | $179.93 B | New York, New York | United States | Banking and Finance | 293,723 |
| 2 | Saudi Arabian Oil Company (Saudi Aramco) | $589.47 B | Dhahran | Saudi Arabia | Oil & Gas Operations | 68,493 |
| 3 | ICBC | $216.77 B | Beijing | China | Banking | 427,587 |
| 4 | China Construction Bank | $203.08 B | Beijing | China | Banking | 352,588 |
| 5 | Agricultural Bank of China | $186.14 B | Beijing | China | Banking | 452,258 |
| 6 | Bank of America | $133.84 B | Charlotte, North Carolina | United States | Banking | 217,000 |
| 7 | Alphabet | $282.85 B | Mountain View, California | United States | IT Software & Services | 190,234 |
| 8 | ExxonMobil | $393.16 B | Irving, Texas | United States | Oil & Gas Operations | 62,000 |
| 9 | Microsoft | $207.59 B | Redmond, Washington | United States | Software & Services | 221,000 |
| 10 | Apple | $385.1 B | Cupertino, California | United States | Technology Hardware & Equipment | 164,000 |
| 11 | Shell | $365.89 B | London | United Kingdom | Oil & Gas Operations | 93,000 |
| 12 | Bank of China | $158.23 B | Beijing | China | Banking | 306,182 |
| 13 | Toyota Motor | $270.49 B | Toyota | Japan | Consumer Durables | 372,817 |
| 15 | UnitedHealth Group | $335.94 B | Minnetonka, Minnesota | United States | Insurance | 400,000 |
| 16 | Ping An Insurance Group | $166.37 B | Shenzhen | China | Insurance | 344,223 |
| 17 | Wells Fargo | $108.93 B | San Francisco, California | United States | Banking | 238,000 |
| 18 | Chevron | $232.12 B | San Ramon, California | United States | Oil & Gas Operations | 43,846 |
| 19 | PetroChina | $457.4 B | Beijing | China | Oil & Gas Operations | 398,440 |
| 20 | HSBC Holdings | $73.98 B | London | United Kingdom | Banking | 219,000 |
| 21 | TotalEnergies | $257.59 B | Courbevoie | France | Oil & Gas Operations | 101,279 |
| 21 | Verizon Communications | $136.19 B | New York, New York | United States | Telecommunications Services | 117,100 |
| 23 | Walmart | $611.29 B | Bentonville, Arkansas | United States | Retailing | 2,100,000 |
| 24 | Citigroup | $120.42 B | New York, New York | United States | Banks | 240,000 |
| 25 | China Mobile | $140.53 B | Hong Kong | Hong Kong | Telecommunications Services | 450,698 |
| 26 | China Merchants Bank | $72.44 B | Shenzhen | China | Banking | 112,999 |
| 27 | Postal Savings Bank Of China (PSBC) | $82.51 B | Beijing | China | Banking | 195,102 |
| 28 | BP | $248.11 B | London | United Kingdom | Oil & Gas Operations | 67,600 |
| 29 | Volkswagen Group | $293.47 B | Wolfsburg | Germany | Consumer Durables | 675,805 |
| 30 | Morgan Stanley | $74.16 B | New York, New York | United States | Banking and Finance | 82,427 |
| 31 | Meta Platforms | $117.35 B | Menlo Park, California | United States | IT Software & Services | 86,482 |
| 32 | Sinopec | $453.56 B | Beijing | China | Oil & Gas Operations | 374,791 |
| 33 | BNP Paribas | $99.47 B | Paris | France | Banking | 208,089 |
| 33 | Goldman Sachs Group | $79.45 B | New York, New York | United States | Diversified Financials | 48,500 |
| 33 | Tencent Holdings | $82.41 B | Shenzhen | China | IT Software & Services | 108,436 |
| 36 | Amazon | $524.9 B | Seattle, Washington | United States | Retail and Wholesale | 1,541,000 |
| 37 | Allianz | $134.26 B | Munich | Germany | Insurance | 157,332 |
| 38 | RBC | $60.22 B | Toronto | Canada | Banking | 91,427 |
| 40 | Johnson & Johnson | $96.31 B | New Brunswick, New Jersey | United States | Drugs & Biotechnology | 152,700 |
| 41 | Deutsche Telekom | $120.72 B | Bonn | Germany | Telecommunications Services | 206,759 |
| 42 | Mercedes-Benz Group | $158.78 B | Stuttgart | Germany | Consumer Durables | 168,797 |
| 43 | TD Bank Group | $56.72 B | Toronto | Canada | Banking | 90,000 |
| 44 | Taiwan Semiconductor | $75.03 B | Hsinchu | Taiwan | Semiconductors | 65,152 |
| 45 | Reliance Industries | $109.43 B | Mumbai | India | Oil & Gas Operations | 236,334 |
| 46 | BMW Group | $154.25 B | Munich | Germany | Consumer Durables | 149,475 |
| 47 | LVMH Moët Hennessy Louis Vuitton | $83.22 B | Paris | France | Household & Personal Products | 196,006 |
| 48 | AXA Group | $110.92 B | Paris | France | Insurance | 90,443 |
| 49 | Nestlé | $98.87 B | Vevey | Switzerland | Food, Drink & Tobacco | 275,000 |
| 49 | Santander | $87.74 B | Madrid | Spain | Banking | 206,462 |
| 51 | Comcast | $120.11 B | Philadelphia, Pennsylvania | United States | Media | 186,000 |
| 52 | Equinor | $141.92 B | Stavanger | Norway | Oil & Gas Operations | 21,936 |
| 53 | Bank of Communications | $78.29 B | Shanghai | China | Banking | 10,000 |
| 54 | Alibaba Group | $128.26 B | Hangzhou | China | Retailing | 254,941 |
| 55 | Procter & Gamble | $80.97 B | Cincinnati, Ohio | United States | Household & Personal Products | 106,000 |
| 56 | Nippon Telegraph & Tel | $97.36 B | Tokyo | Japan | Telecommunications Services | 333,840 |
| 57 | Sony | $85.15 B | Tokyo | Japan | Technology Hardware & Equipment | 108,900 |
| 58 | Petrobras | $124.17 B | Rio de Janeiro | Brazil | Oil & Gas Operations | 45,149 |
| 59 | Glencore International | $254.93 B | Baar | Switzerland | Trading Companies | 140,000 |
| 60 | Industrial Bank  | $59.08 B | Fuzhou | China | Banking | 63,853 |
| 61 | Stellantis | $188.75 B | Hoofddorp | Netherlands | Consumer Durables | 272,367 |
| 62 | China Life Insurance | $124.43 B | Beijing | China | Insurance | 103,262 |
| 63 | American Express | $59.29 B | New York, New York | United States | Business Services & Supplies | 77,300 |
| 64 | General Electric | $74.02 B | Boston, Massachusetts | United States | Capital Goods | 172,000 |
| 65 | CVS Health | $331.17 B | Woonsocket, Rhode Island | United States | Retailing | 300,000 |
| 66 | China State Construction Engineering | $303.78 B | Beijing | China | Construction | 382,492 |
| 68 | Cigna | $182.8 B | Bloomfield, Connecticut | United States | Drugs & Biotechnology | 71,300 |
| 69 | Tesla | $86.03 B | Austin, Texas | United States | Consumer Durables | 127,855 |
| 70 | General Motors | $160.74 B | Detroit, Michigan | United States | Consumer Durables | 167,000 |
| 71 | CITIC | $98.48 B | Hong Kong | Hong Kong | Trading Companies | 195 |
| 72 | Anheuser-Busch InBev | $57.83 B | Leuven | Belgium | Food, Drink & Tobacco | 166,632 |
| 73 | Merck & Co. | $57.09 B | Kenilworth, New Jersey | United States | Drugs & Biotechnology | 69,000 |
| 74 | AbbVie | $56.74 B | North Chicago, Illinois | United States | Drugs & Biotechnology | 50,000 |
| 75 | Mitsubishi | $161.02 B | Tokyo | Japan | Trading Companies | 80,728 |
| 76 | Roche Holding | $66.26 B | Basel | Switzerland | Drugs & Biotechnology | 103,613 |
| 77 | State Bank of India | $56.54 B | Mumbai | India | Banking | 244,250 |
| 78 | Elevance Health | $160.67 B | Indianapolis, Indiana | United States | Drugs & Biotechnology | 100,549 |
| 79 | Raytheon Technologies | $68.57 B | Arlington, Virginia | United States | Aerospace & Defense | 182,000 |
| 80 | Oracle | $47.96 B | Austin, Texas | United States | IT Software & Services | 143,000 |
| 81 | Eni | $132.38 B | Rome | Italy | Oil & Gas Operations | 32,188 |
| 82 | PepsiCo | $88.05 B | Purchase, New York | United States | Food, Drink & Tobacco | 315,000 |
| 83 | ConocoPhillips | $75.2 B | Houston, Texas | United States | Oil & Gas Operations | 9,500 |
| 84 | Bank of Montreal | $37.56 B | Toronto | Canada | Banking | 46,722 |
| 85 | CNOOC | $59.08 B | Hong Kong | Hong Kong | Oil & Gas Operations | 18,893 |
| 86 | Sumitomo Mitsui Financial | $41.54 B | Tokyo | Japan | Banking | 101,023 |
| 87 | Walt Disney | $84.07 B | Burbank, California | United States | Travel/Entertainment | 220,000 |
| 88 | Bank of Nova Scotia | $40.24 B | Toronto | Canada | Banking | 90,979 |
| 89 | Sanofi  | $45.19 B | Paris | France | Drugs & Biotechnology | 91,573 |
| 90 | BHP Group Ltd | $59.95 B | Melbourne | Australia | Materials | 80,000 |
| 91 | Mitsubishi UFJ Financial | $60.22 B | Tokyo | Japan | Banking | 135,049 |
| 92 | UBS | $39.89 B | Zurich | Switzerland | Diversified Financials | 72,597 |
| 93 | Cisco Systems | $53.16 B | San Jose, California | United States | IT Software & Services | 83,300 |
| 94 | Novartis | $50.95 B | Basel | Switzerland | Drugs & Biotechnology | 101,703 |
| 95 | United Parcel Service | $98.55 B | Atlanta, Georgia | United States | Transportation | 536,000 |
| 96 | Coca-Cola | $43.31 B | Atlanta, Georgia | United States | Food, Drink & Tobacco | 82,500 |
| 98 | Itaú Unibanco Holding | $53.17 B | São Paulo | Brazil | Banking | 99,600 |
| 99 | Costco Wholesale | $234.39 B | Issaquah, Washington | United States | Retailing | 304,000 |
| 100 | Commonwealth Bank | $25.33 B | Sydney | Australia | Banking | 49,245 |
| 100 | Rio Tinto | $55.34 B | London | United Kingdom | Materials | 53,726 |
| 102 | Iberdrola | $59.55 B | Bilbao | Spain | Utilities | 45,000 |
| 103 | BBVA-Banco Bilbao Vizcaya | $51.94 B | Madrid | Spain | Banking | 115,675 |
| 104 | Hyundai Motor | $114.55 B | Seoul | South Korea | Consumer Durables | 71,982 |
| 104 | Unilever | $63.11 B | London | United Kingdom | Household & Personal Products | 127,000 |
| 106 | Zurich Insurance Group | $41.89 B | Zurich | Switzerland | Insurance | 56,000 |
| 107 | Deere & Company | $55.63 B | Moline, Illinois | United States | Capital Goods | 82,200 |
| 107 | Mitsui | $105.57 B | Tokyo | Japan | Chemicals | 44,509 |
| 109 | Honda Motor | $124.68 B | Tokyo | Japan | Consumer Durables | 204,035 |
| 110 | British American Tobacco | $34.06 B | London | United Kingdom | Food, Drink & Tobacco | 50,397 |
| 111 | Bristol Myers Squibb | $45.85 B | New York, New York | United States | Drugs & Biotechnology | 34,300 |
| 112 | Chubb | $44.7 B | Zurich | Switzerland | Insurance | 34,000 |
| 113 | Intesa Sanpaolo | $36.36 B | Turin | Italy | Banking | 105,848 |
| 114 | Munich Re | $79.52 B | Munich | Germany | Insurance | 41,389 |
| 115 | Shanghai Pudong Development | $56.25 B | Shanghai | China | Banking | 63,361 |
| 116 | Hon Hai Precision  | $222.29 B | New Taipei | Taiwan | Technology Hardware & Equipment |   |
| 117 | Marathon Petroleum | $174.05 B | Findlay, Ohio | United States | Oil & Gas Operations | 17,800 |
| 118 | Thermo Fisher Scientific | $43.81 B | Waltham, Massachusetts | United States | Health Care Equipment & Services | 130,000 |
| 119 | Caterpillar | $61.7 B | Irving, Texas | United States | Capital Goods | 109,100 |
| 120 | Charles Schwab | $23.86 B | Westlake, Texas | United States | Diversified Financials | 35,300 |
| 121 | Contemporary Amperex Technology | $53.66 B | Ningde | China | Capital Goods | 82,534 |
| 122 | Visa | $30.98 B | San Francisco, California | United States | Business Services & Supplies | 26,500 |
| 123 | American International Group | $51.42 B | New York, New York | United States | Insurance | 26,200 |
| 124 | Ford Motor | $165.06 B | Dearborn, Michigan | United States | Consumer Durables | 173,000 |
| 125 | Itochu | $104.49 B | Tokyo | Japan | Food Markets | 115,124 |
| 126 | AstraZeneca | $43.85 B | Cambridge | United Kingdom | Drugs & Biotechnology | 83,500 |
| 127 | AIRBUS | $60.87 B | Blagnac | France | Aerospace & Defense | 134,267 |
| 128 | HDFC Bank | $25.47 B | Mumbai | India | Banking | 120,093 |
| 129 | VINCI | $65.44 B | Nanterre Cedex | France | Construction | 270,000 |
| 130 | Credit Agricole | $51.3 B | Montrouge | France | Banking | 74,770 |
| 131 | China Shenhua Energy | $51.98 B | Beijing | China | Materials | 77,872 |
| 132 | US Bancorp | $31.42 B | Minneapolis, Minnesota | United States | Banking | 78,192 |
| 133 | China Citic Bank | $55.18 B | Chaoyang | China | Banking | 61,103 |
| 134 | Broadcom | $34.41 B | San Jose, California | United States | Semiconductors | 20,000 |
| 135 | NextEra Energy | $24.27 B | Juno Beach, Florida | United States | Utilities | 15,300 |
| 136 | Phillips 66 | $167.87 B | Houston, Texas | United States | Oil & Gas Operations | 13,000 |
| 137 | Bayer  | $53.33 B | Leverkusen | Germany | Drugs & Biotechnology | 101,369 |
| 138 | Charter Communications | $54.48 B | Stamford, Connecticut | United States | Media | 101,700 |
| 139 | Vale | $41.43 B | Rio de Janeiro | Brazil | Materials | 64,516 |
| 140 | NAB - National Australia Bank | $26.27 B | Melbourne | Australia | Banking | 35,558 |
| 141 | Hitachi | $80.29 B | Tokyo | Japan | Capital Goods | 368,247 |
| 142 | Abbott Laboratories | $41.51 B | Abbott Park, Illinois | United States | Health Care Equipment & Services | 115,000 |
| 143 | Japan Post Holdings | $83.79 B | Tokyo | Japan | Insurance | 232,112 |
| 144 | ANZ | $28.27 B | Docklands | Australia | Banking | 39,196 |
| 145 | Danaher | $30.95 B | Washington, District of Columbia | United States | Health Care Equipment & Services | 81,000 |
| 146 | China Telecom | $70.29 B | Beijing | China | Telecommunications Services | 280,683 |
| 147 | Lloyds Banking Group | $27.97 B | London | United Kingdom | Banking | 59,354 |
| 148 | Capital One | $41.33 B | McLean, Virginia | United States | Banking | 55,943 |
| 149 | PICC | $93.38 B | Beijing | China | Insurance | 184,364 |
| 149 | PNC Financial Services | $26.18 B | Pittsburgh, Pennsylvania | United States | Banking | 61,545 |
| 151 | Brookfield Corporation | $94.47 B | Toronto | Canada | Diversified Financials | 150,000 |
| 152 | Generali Group | $91.78 B | Trieste | Italy | Insurance | 82,061 |
| 153 | Mizuho Financial | $32.03 B | Tokyo | Japan | Banking | 52,420 |
| 154 | Deutsche Post | $96.47 B | Bonn | Germany | Transportation | 600,278 |
| 155 | Truist Financial | $28 B | Charlotte, North Carolina | United States | Banking | 52,848 |
| 156 | China Pacific Insurance | $68.07 B | Shanghai | China | Insurance | 107,000 |
| 157 | Amgen | $25.93 B | Thousand Oaks, California | United States | Drugs & Biotechnology | 25,200 |
| 158 | KDDI | $42.7 B | Tokyo | Japan | Telecommunications Services | 48,829 |
| 159 | Lockheed Martin | $66.15 B | Bethesda, Maryland | United States | Aerospace & Defense | 116,000 |
| 160 | Accenture | $63.14 B | Dublin | Ireland | IT Software & Services | 721,000 |
| 161 | Lowe's | $97.06 B | Mooresville, North Carolina | United States | Retailing | 307,000 |
| 162 | Linde | $33.35 B | Woking | United Kingdom | Chemicals | 65,010 |
| 163 | ICICI Bank | $23.17 B | Mumbai | India | Banking | 99,319 |
| 164 | Barclays | $30.93 B | London | United Kingdom | Diversified Financials | 87,400 |
| 165 | Valero Energy | $174.43 B | San Antonio, Texas | United States | Oil & Gas Operations | 9,743 |
| 166 | Philip Morris International | $31.81 B | Stamford, Connecticut | United States | Food, Drink & Tobacco | 79,800 |
| 167 | FedEx | $92.62 B | Memphis, Tennessee | United States | Transportation | 249,000 |
| 168 | Occidental Petroleum | $36.25 B | Houston, Texas | United States | Oil & Gas Operations | 11,973 |
| 169 | MetLife | $69.53 B | New York, New York | United States | Insurance | 45,000 |
| 170 | BYD | $68.06 B | Shenzhen | China | Consumer Durables | 570,060 |
| 171 | Banco do Brasil | $53.98 B | Brasilia | Brazil | Banking | 85,953 |
| 171 | Medtronic | $30.77 B | Dublin | Ireland | Health Care Equipment & Services | 95,000 |
| 173 | Banco Bradesco | $56.26 B | Osasco | Brazil | Banking | 88,381 |
| 174 | Møller-Maersk | $76.61 B | Copenhagen | Denmark | Transportation | 2,852 |
| 175 | IBM | $60.58 B | Armonk, New York | United States | IT Software & Services | 311,300 |
| 176 | UniCredit | $21.03 B | Milan | Italy | Banking | 78,571 |
| 177 | América Móvil | $43.57 B | Mexico City | Mexico | Telecommunications Services | 176,014 |
| 178 | Enel | $132.19 B | Rome | Italy | Utilities | 65,124 |
| 179 | Southern Company | $29.12 B | Atlanta, Georgia | United States | Utilities | 27,700 |
| 180 | Qualcomm | $41.07 B | San Diego, California | United States | Semiconductors | 51,000 |
| 181 | Oversea-Chinese Banking | $25.39 B | Singapore | Singapore | Banking | 31,604 |
| 182 | L'Oréal | $40.21 B | Clichy | France | Household & Personal Products | 87,369 |
| 183 | Canadian Imperial Bank | $28.83 B | Toronto | Canada | Banking | 50,427 |
| 184 | HCA Healthcare | $60.88 B | Nashville, Tennessee | United States | Health Care Equipment & Services | 294,000 |
| 185 | Duke Energy | $29.14 B | Charlotte, North Carolina | United States | Utilities | 27,859 |
| 186 | Honeywell International | $35.94 B | Charlotte, North Carolina | United States | Industrial Conglomerates | 110,000 |
| 187 | GSK | $35 B | Middlesex | United Kingdom | Drugs & Biotechnology | 69,400 |
| 188 | Deutsche Bank | $44.54 B | Frankfurt | Germany | Diversified Financials | 84,930 |
| 189 | McKesson | $273.9 B | Irving, Texas | United States | Health Care Equipment & Services | 75,000 |
| 190 | DBS | $16.11 B | Singapore | Singapore | Banking | 36,000 |
| 191 | China Everbright Bank | $41.48 B | Beijing | China | Banking | 45,680 |
| 192 | Mondelez International | $32.9 B | Chicago, Illinois | United States | Food, Drink & Tobacco | 91,000 |
| 193 | Tokio Marine Holdings | $48.67 B | Tokyo | Japan | Insurance | 43,048 |
| 194 | Union Pacific | $25.07 B | Omaha, Nebraska | United States | Transportation | 30,717 |
| 195 | Enbridge | $37.69 B | Calgary | Canada | Oil & Gas Operations | 11,100 |
| 195 | Porsche Automobil Holding | $41.27 B | Stuttgart | Germany | Consumer Durables | 39,162 |
| 197 | Westpac Banking Group | $18.71 B | Sydney | Australia | Banking | 37,476 |
| 198 | China Railway Group | $171.53 B | Beijing | China | Construction | 297,620 |
| 199 | Midea Group | $52.99 B | Foshan | China | Consumer Durables | 165,799 |
| 200 | ING Group | $19.51 B | Amsterdam | Netherlands | Banking | 60,778 |
| 201 | Humana | $95.64 B | Louisville, Kentucky | United States | Drugs & Biotechnology | 67,100 |
| 202 | Eli Lilly | $27.69 B | Indianapolis, Indiana | United States | Drugs & Biotechnology | 39,000 |
| 203 | Target | $109.12 B | Minneapolis, Minnesota | United States | Retailing | 440,000 |
| 204 | Archer Daniels Midland | $102.28 B | Chicago, Illinois | United States | Food, Drink & Tobacco | 42,001 |
| 205 | NatWest Group | $22.71 B | Edinburgh | United Kingdom | Banking | 61,000 |
| 205 | Schneider Electric | $35.92 B | Rueil-Malmaison | France | Capital Goods | 149,812 |
| 207 | National Grid | $26.72 B | London | United Kingdom | Utilities | 29,292 |
| 207 | Qatar National Bank | $21.18 B | Doha | Qatar | Banking |   |
| 209 | E.ON | $121.56 B | Essen | Germany | Utilities | 69,378 |
| 210 | Nike | $50.64 B | Beaverton, Oregon | United States | Household & Personal Products | 79,100 |
| 211 | China Minsheng Bank | $45.01 B | Beijing | China | Banking | 62,615 |
| 212 | Gilead Sciences | $26.84 B | Foster City, California | United States | Drugs & Biotechnology | 17,000 |
| 213 | RWE Group | $40.32 B | Essen | Germany | Utilities | 18,310 |
| 214 | ArcelorMittal | $79.53 B | Luxembourg | Luxembourg | Materials | 154,352 |
| 215 | BlackRock | $17.39 B | New York, New York | United States | Diversified Financials | 19,800 |
| 215 | Suncor Energy | $44.92 B | Calgary | Canada | Oil & Gas Operations | 16,558 |
| 217 | McDonald's | $23.41 B | Chicago, Illinois | United States | Hotels, Restaurants & Leisure | 150,000 |
| 218 | Canadian Natural Resources | $30.42 B | Calgary | Canada | Oil & Gas Operations | 9,735 |
| 219 | Nordea Bank | $17.97 B | Helsinki | Finland | Banking | 28,268 |
| 220 | China Resources Land | $30.61 B | Hong Kong | Hong Kong | Construction | 55,311 |
| 221 | SAP | $32.48 B | Walldorf | Germany | IT Software & Services | 111,961 |
| 222 | Travelers | $37.79 B | New York, New York | United States | Insurance | 32,500 |
| 223 | Netflix | $31.91 B | Los Gatos, California | United States | Media | 12,800 |
| 224 | JD.com | $155.26 B | Beijing | China | Retailing | 450,679 |
| 225 | Dell Technologies | $101.56 B | Round Rock, Texas | United States | Technology Hardware & Equipment | 133,000 |
| 226 | Oil & Natural Gas | $86.06 B | New Delhi | India | Oil & Gas Operations | 30,000 |
| 227 | CK Hutchison | $33.52 B | Hong Kong | Hong Kong | Retailing | 300,000 |
| 228 | China Vanke | $75.64 B | Shenzhen | China | Construction | 131,817 |
| 229 | Vodafone | $49.74 B | Newbury | United Kingdom | Telecommunications Services | 104,000 |
| 230 | Volvo Group | $48.07 B | Gothenburg | Sweden | Capital Goods | 102,155 |
| 231 | Seven & I Holdings | $88.03 B | Tokyo | Japan | Food Markets |   |
| 232 | HDFC | $19.04 B | Mumbai | India | Business Services & Supplies | 5,490 |
| 233 | Bank of New York Mellon | $23.05 B | New York, New York | United States | Diversified Financials | 51,700 |
| 234 | Anglo American | $35.05 B | London | United Kingdom | Materials | 62,350 |
| 235 | Mastercard | $22.82 B | Purchase, New York | United States | Business Services & Supplies | 29,900 |
| 236 | Novo Nordisk | $26.32 B | Bagsværd | Denmark | Drugs & Biotechnology | 54,393 |
| 237 | Northrop Grumman | $37.11 B | Falls Church, Virginia | United States | Aerospace & Defense | 95,000 |
| 238 | PTT  | $96 B | Bangkok | Thailand | Oil & Gas Operations |   |
| 239 | PayPal | $27.06 B | San Jose, California | United States | Business Services & Supplies | 29,900 |
| 240 | ASML Holding | $25.36 B | Veldhoven | Netherlands | Semiconductors | 39,086 |
| 241 | NVIDIA | $26.97 B | Santa Clara, California | United States | Semiconductors | 26,196 |
| 242 | 3M | $33.43 B | St. Paul, Minnesota | United States | Conglomerates | 92,000 |
| 243 | Poly Developments & Holdings Group | $40.07 B | Guangzhou | China | Construction | 67,260 |
| 244 | General Dynamics | $39.9 B | Reston, Virginia | United States | Aerospace & Defense | 106,500 |
| 245 | Macquarie Group | $17.22 B | Sydney | Australia | Diversified Financials | 20,509 |
| 246 | EOG Resources | $28.43 B | Houston, Texas | United States | Oil & Gas Operations | 2,850 |
| 247 | Takeda Pharmaceutical | $29.99 B | Osaka | Japan | Drugs & Biotechnology | 47,347 |
| 248 | Air Liquide | $31.46 B | Paris | France | Chemicals | 67,109 |
| 249 | Aflac | $19.03 B | Columbus, Georgia | United States | Insurance | 12,882 |
| 250 | Sun Life Financial | $31.56 B | Toronto | Canada | Insurance | 5,550 |
| 251 | Orange | $45.69 B | Paris | France | Telecommunications Services | 136,430 |
| 252 | Cosco Shipping | $58.34 B | Shanghai | China | Transportation | 31,510 |
| 252 | Kraft Heinz Company | $26.93 B | Pittsburgh, Pennsylvania | United States | Food, Drink & Tobacco | 37,000 |
| 254 | Nutrien | $37.75 B | Saskatoon | Canada | Chemicals | 24,700 |
| 255 | Standard Chartered | $28.57 B | London | United Kingdom | Banking | 83,266 |
| 256 | KIA | $70.17 B | Seoul | South Korea | Consumer Durables | 35,847 |
| 257 | Dow | $53.49 B | Midland, Michigan | United States | Chemicals | 37,800 |
| 258 | SAIC Motor | $102.5 B | Shanghai | China | Consumer Durables | 215,999 |
| 259 | Centene | $146.25 B | St. Louis, Missouri | United States | Drugs & Biotechnology | 74,300 |
| 260 | The Saudi National Bank | $11.77 B | Riyadh | Saudi Arabia | Banking | 15,906 |
| 261 | Sumitomo | $50.33 B | Tokyo | Japan | Trading Companies | 74,253 |
| 262 | EssilorLuxottica | $25.74 B | Charenton-le-Pont | France | Health Care Equipment & Services | 189,788 |
| 262 | Merck KGaA, Darmstadt, Germany and its affiliates | $23.36 B | Darmstadt | Germany | Drugs & Biotechnology | 64,232 |
| 264 | Schlumberger | $29.93 B | Houston, Texas | United States | Oil & Gas Operations | 99,000 |
| 265 | China Railway Construction | $160.59 B | Beijing | China | Construction | 269,577 |
| 266 | Kroger | $148.26 B | Cincinnati, Ohio | United States | Food Markets | 430,000 |
| 266 | Marubeni | $73.47 B | Tokyo | Japan | Food, Drink & Tobacco | 46,100 |
| 268 | Holcim | $30.56 B | Zug | Switzerland | Construction | 60,422 |
| 269 | Dai-ichi Life Insurance | $57.61 B | Tokyo | Japan | Insurance | 62,260 |
| 270 | Nippon Steel  | $59.52 B | Tokyo | Japan | Materials | 106,528 |
| 271 | Royal Ahold Delhaize N.V. | $91.42 B | Zaandam | Netherlands | Food Markets | 250,000 |
| 272 | Denso | $47.24 B | Kariya | Japan | Consumer Durables | 168,391 |
| 273 | KBC Group | $18.46 B | Brussels | Belgium | Banking | 42,000 |
| 274 | Inditex | $34.1 B | A Coruña | Spain | Household & Personal Products | 165,042 |
| 275 | Diageo | $20.84 B | London | United Kingdom | Food, Drink & Tobacco | 28,558 |
| 276 | Manulife | $12.23 B | Toronto | Canada | Insurance | 40,000 |
| 277 | China Unicom | $52.78 B | Hong Kong | Hong Kong | Telecommunications Services | 243,586 |
| 278 | KB Financial Group | $44.38 B | Seoul | South Korea | Banking | 164 |
| 279 | SK Hynix | $34.53 B | Icheon | South Korea | Semiconductors | 30,135 |
| 280 | Saint-Gobain | $53.81 B | Courbevoie | France | Construction | 170,714 |
| 281 | Cheniere Energy | $33.3 B | Houston, Texas | United States | Oil & Gas Operations | 1,551 |
| 282 | Daimler Truck Holding | $53.54 B | Leinfelden-Echterdingen | Germany | Consumer Durables | 100,000 |
| 283 | PKN Orlen | $62.44 B | Plock | Poland | Oil & Gas Operations | 32,701 |
| 284 | Zijin Mining Group | $40.31 B | Longyan | China | Materials | 48,836 |
| 285 | Kweichow Moutai | $16.65 B | Renhuai | China | Food, Drink & Tobacco | 31,413 |
| 286 | Telefónica | $42.03 B | Madrid | Spain | Telecommunications Services | 104,150 |
| 287 | AmerisourceBergen | $247.54 B | Conshohocken, Pennsylvania | United States | Health Care Equipment & Services | 44,000 |
| 288 | Al Rajhi Bank | $10.29 B | Riyadh | Saudi Arabia | Banking | 19,964 |
| 289 | Power Construction Corporation of China | $83.9 B | Beijing | China | Construction | 164,165 |
| 290 | Repsol  | $76.12 B | Madrid | Spain | Oil & Gas Operations | 23,770 |
| 291 | First Abu Dhabi Bank | $13.11 B | Abu Dhabi | United Arab Emirates | Diversified Financials | 13,684 |
| 292 | Fiserv | $18.15 B | Brookfield, Wisconsin | United States | Banking | 41,000 |
| 293 | Automatic Data Processing | $17.66 B | Roseland, New Jersey | United States | Business Services & Supplies | 60,000 |
| 294 | EnBW-Energie Baden | $58.86 B | Karlsruhe | Germany | Utilities | 26,980 |
| 295 | TJX Cos | $49.94 B | Framingham, Massachusetts | United States | Retailing | 329,000 |
| 296 | CaixaBank | $15.43 B | Valencia | Spain | Banking | 44,625 |
| 297 | ABB | $30.37 B | Zurich | Switzerland | Capital Goods | 105,100 |
| 298 | Posco | $63.21 B | Seoul | South Korea | Construction | 6,171 |
| 299 | Shinhan Financial Group | $33.38 B | Seoul | South Korea | Diversified Financials | 20,000 |
| 300 | Altria Group | $20.63 B | Richmond, Virginia | United States | Food, Drink & Tobacco | 6,300 |
| 301 | Starbucks | $33.97 B | Seattle, Washington | United States | Hotels, Restaurants & Leisure | 402,000 |
| 302 | Power Corp of Canada | $55.77 B | Montréal | Canada | Insurance | 33,700 |
| 303 | CRH | $32.84 B | Rathfarnham | Ireland | Construction | 75,800 |
| 304 | International Holding Company | $13.85 B | Abu Dhabi | United Arab Emirates | Health Care Equipment & Services |   |
| 305 | Longfor Group Holdings | $37 B | Beijing | China | Construction | 31,565 |
| 306 | Exelon | $19.31 B | Chicago, Illinois | United States | Utilities | 19,063 |
| 307 | Bank Rakyat Indonesia (BRI) | $13.16 B | Jakarta | Indonesia | Banking | 79,079 |
| 308 | Woodside Energy Group | $16.97 B | Perth | Australia | Oil & Gas Operations | 4,376 |
| 309 | American Electric | $19.72 B | Columbus, Ohio | United States | Utilities | 16,974 |
| 310 | Ecopetrol | $33.67 B | Bogota | Colombia | Oil & Gas Operations | 18,903 |
| 311 | Femsa | $35.86 B | Monterrey | Mexico | Food, Drink & Tobacco | 354,344 |
| 312 | Sempra | $18.21 B | San Diego, California | United States | Utilities | 15,785 |
| 313 | Société Générale | $53.33 B | Paris | France | Banking | 133,251 |
| 313 | Texas Instruments | $19.5 B | Dallas, Texas | United States | Semiconductors | 33,000 |
| 315 | Applied Materials | $26.14 B | Santa Clara, California | United States | Capital Goods | 33,000 |
| 316 | Pioneer Natural Resources | $22.83 B | Irving, Texas | United States | Oil & Gas Operations | 2,076 |
| 317 | Bank of Ningbo | $14.69 B | Ningbo | China | Banking | 27,066 |
| 318 | Nucor | $39.73 B | Charlotte, North Carolina | United States | Materials | 31,400 |
| 319 | Cenovus Energy | $47.58 B | Calgary | Canada | Oil & Gas Operations | 5,998 |
| 320 | Bank Of Jiangsu | $19.88 B | Nanjing | China | Banking | 17,590 |
| 321 | Micron Technology | $23.06 B | Boise, Idaho | United States | Semiconductors | 48,000 |
| 322 | Couche Tard | $71.78 B | Laval | Canada | Retailing | 96,000 |
| 323 | PG&E | $21.68 B | Oakland, California | United States | Utilities | 26,010 |
| 324 | Freeport-McMoRan | $22.37 B | Phoenix, Arizona | United States | Materials | 25,600 |
| 325 | Huaxia Bank | $24.86 B | Beijing | China | Banking | 40,556 |
| 325 | United Overseas Bank | $12 B | Singapore | Singapore | Banking | 28,659 |
| 327 | Kering | $21.39 B | Paris | France | Household & Personal Products | 47,227 |
| 328 | Emirates NBD | $14.65 B | Dubai | United Arab Emirates | Banking | 13,000 |
| 329 | Saudi Electricity | $19.2 B | Riyadh | Saudi Arabia | Utilities |   |
| 329 | Shin-Etsu Chemical | $20.73 B | Tokyo | Japan | Chemicals | 24,069 |
| 331 | Gree Electric Appliances | $27.51 B | Zhuhai | China | Capital Goods | 72,380 |
| 332 | Discover Financial Services | $16.95 B | Riverwoods, Illinois | United States | Business Services & Supplies | 20,200 |
| 333 | Citic Securities | $13.55 B | Shenzhen | China | Diversified Financials | 23,696 |
| 334 | Lennar | $33.98 B | Miami, Florida | United States | Construction | 12,012 |
| 335 | China Communications Construction | $106.77 B | Beijing | China | Construction | 136,506 |
| 336 | PDD Holdings | $19.28 B | Dublin | Ireland | Retailing | 12,992 |
| 336 | Progressive | $52.05 B | Mayfield Village, Ohio | United States | Insurance | 55,063 |
| 338 | Berkshire Hathaway | $302.09 B | Omaha, Nebraska | United States | Diversified Financials | 383,000 |
| 339 | LG Chem | $41.81 B | Seoul | South Korea | Chemicals | 12,561 |
| 340 | D.R. Horton | $33.66 B | Arlington, Texas | United States | Construction | 13,237 |
| 341 | Principal Financial Group | $17.2 B | Des Moines, Iowa | United States | Diversified Financials | 19,300 |
| 342 | Delta Air Lines | $53.99 B | Atlanta, Georgia | United States | Transportation | 95,000 |
| 343 | Marsh & McLennan | $21.07 B | New York, New York | United States | Insurance | 85,000 |
| 344 | DNB Bank | $12.41 B | Oslo | Norway | Banking | 10,625 |
| 345 | Corebridge Financial | $26.41 B | Houston, Texas | United States | Diversified Financials | 7,700 |
| 346 | Wilmar International | $73.41 B | Singapore | Singapore | Food, Drink & Tobacco | 100,000 |
| 347 | Ameriprise Financial | $15.98 B | Minneapolis, Minnesota | United States | Diversified Financials | 13,500 |
| 348 | Bank of Beijing | $18.58 B | Beijing | China | Banking | 17,980 |
| 348 | Kinder Morgan | $18.25 B | Houston, Texas | United States | Oil & Gas Operations | 10,525 |
| 350 | Fannie Mae | $125.57 B | Washington, District of Columbia | United States | Business Services & Supplies | 8,000 |
| Download the 2024 G2000 list to see 351-2000 |   |   |   |   |   |   |
CLICK HERE TO ADD THE FORBES GLOBAL 2000 LIST TO YOUR CART AND CHECKOUT