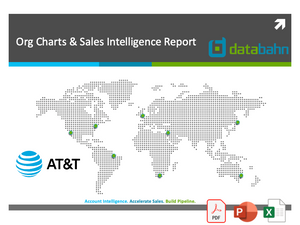 databahn
AT&T Org Chart & Sales Intelligence Report
Sale price Price $ 395.00 Regular price
AT&T Org Chart & Sales Intelligence Report

Published on June 26, 2023
AT&T Inc.
208 South Akard Street
Dallas, TX 75202
United States
Main Phone: (210) 821-4105
Website: https://www.att.com
Industry: Communications - Telecom Services
Full Time Employees: 157,790
Annual Revenues: $121.17 Billion
Fiscal Year End: December 31, 2023
CEO: John T. Stankey, CEO, President & Director
Fortune Rank: #30 (2023)

The AT&T Org Chart and Sales Intelligence Report was researched and developed with the IT sales executive and the IT marketer in mind. Our goal is simple; eliminate the costly research time and help you identify new sales revenue opportunities.
Top 10 reasons to buy the AT&T Org Chart Report:
Create a better and more informed RFP Response proposal
Brief your C-level executives before a sales call
Eliminate the time it takes to build a

AT&T

 

strategic account plan
Develop more effective

AT&T

 

account-based marketing (ABM) programs
Discover

AT&T

 sales opportunities you're not aware of
Understand the competitive landscape in the account
Ramp up new sales reps faster in the

AT&T

 account
Need accurate

AT&T

 

contact information &

AT&T

 org charts
Insights into

AT&T

 IT projects & initiatives
Expand footprint in

AT&T



Some of the insights & detailed information you can expect to see in the AT&T Report:
Comprehensive

AT&T

 Business Description
Latest Earnings Call Highlights from the

AT&T

 CEO and the

AT&T 

CFO

Accurate

AT&T

 Contact Information
Detailed

AT&T

 

Org Charts on the corporate structure, senior executive leadership, and board of directors, etc.
Hand curated content from selected

AT&T

 related

 

articles, interviews, case studies, and success stories (technology-related representing dozens of hours of research)

AT&T IT

 Executive Insights to existing IT & telecom systems, projects, initiatives, and internal code names for applications, systems, and IT business units
Insights gleaned from technology-related job descriptions

AT&T

SWOT Analysis

AT&T PESTLE Analysis

Important excerpts and highlights from the

AT&T

 

Annual Report (10-K)

Please allow 5 to 7 business days for customization and delivery.
Have questions? Send an email to info@databahn.com