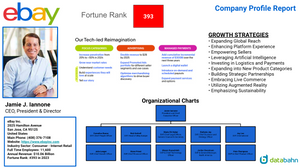 databahn
eBay Company Profile Report - eBay Org Charts
Sale price Price $ 49.95 Regular price
eBay Company Profile Report

November 9, 2023

eBay Inc.
2025 Hamilton Avenue
San Jose, CA 95125
United States
Main Phone: (408) 376-7108
Website URL: https://www.ebayinc.com
Industry Sector: Consumer - Internet Retail
Full Time Employees: 10,800

eBay CEO: Jamie Iannone, CEO, President & Director

2022 eBay Fortune 500 Rank is 301
Can I use the eBay Company Profile Report to help build an eBay account plan?
Yes, this is one of the more common uses of the eBay company profile report. Account executives will use the account intelligence in the report including the org chart to build out a new strategic account plan. The eBay report will save you at least weeks and probably two months of searching and compiling information on your own.
Do you include insights from the
eBay

Annual Report (10-K) in the company profile report?

Yes, there is a dedicated section in the company profile report where the databahn research analysts have extracted key excerpts about the eBay organizational structure, executive compensation, and the eBay corporate strategies amongst other critical insights you will need to sell and market your solution to eBay decision makers and influencers.

 
Do you take the time to review the latest
eBay

Earnings Call?

Yes, the databahn research analyst read through and extract excerpts from the latest earnings call or sometime the past two or three earnings call depending on what's being asked of us. In a similar vein to the Annual Report review, the databahn researchers are looking for insights to the eBay strategies, the overall health of the business, where they're making investments, and perhaps where they're struggling. All of the excerpts are documented in the EARNINGS CALL INSIGHTS Section in the eBay company profile report.

 
What technology platforms are being used to support the eBay business?
databahn researchers will create a eBay Technographic profile detailing what technologies are being used internally. For example, you can see what they're doing with Amazon AWS, Google GCP, Salesforce.com, Oracle, Microsoft, IBM, Broadcom, Dell, VMware, Open Source applications, Adobe, Cisco, and hundreds of other large technology companies and smaller niche players.
Do you include an executive profile on the
eBay

CEO and the

eBay

CFO in the company profile report?

Yes, there is a dedicated EXECUTIVE PROFILE Section in the company profile report that features insights on the eBay CEO. Jamie Iannone and Steve Priest are both profiled along with their contact information and social media handles. In addition to Jamie Iannone and Steve Priest, you will find insights on the eBay CTO, Mazen Rawashdeh, Cornelius Boone, Chief People Officer, Eddie Garcia, Chief Product Officer, Maria Oh Huber, Chief Legal Officer, Stefanie Jay, Chief Business & Strategy Officer, Julie Loeger, Chief Growth Officer, and Jordan Sweetnam, SVP Global Markets.

 
Is eBay contact info included in the company profile report?
Yes, we include a separate eBay contact information spreadsheet listing the names, job titles, addresses, headquarters phone number, email pattern, and other contact intelligence. The eBay contacts spreadsheet can be customized based on geo-location of the contact, their management level (Chief, EVP/SVP, VP, Director, and Manager), and the functional area (marketing, finance, HR, technology, legal, operations, etc.).
Are the
eBay

executives included in the contact information spreadsheet?

Yes, all of the eBay executives are included in the contact information spreadsheet along with their job title, email pattern, HQ phone number, the headquarters mailing address, and their location (city/state).

 
How can I find out about the latest
eBay

news?

databahn researchers comb through the latest eBay news looking for actionable insights, executive quotes, podcasts, video interviews, written interviews, upcoming events where a eBay executive might be a keynote speaker and other valuable eBay news that will help you sell and market into the right execs with relevant messages and questions.

 
How detailed is the
eBay

Org Chart in the company profile report?

One of the sections in the eBay report is the Org Charts Section. We typically include org charts on the eBay Board of Directors, the eBay Leadership team, and also Finance, Purchasing/Procurement, Human Resources (HR), Marketing, Communications, Operations, Information Technology (IT), and Legal. The databahn research team can custom build any part of the eBay organization that you're targeting with your marketing and sales programs.

Who was elected to the eBay Board of Directors in 2023?
Who are the Executive Decision Makers at eBay?
What are the main reporting business segments at eBay?
The databahn analyst team invested 50+ hours to research & build the eBay company profile report and org charts and other valuable and actionable business insights. This is time you don't have to take away from selling.
What are some of the reasons to purchase the eBay Company Profile Report?

Top 10 reasons to buy the eBay Company Profile Report:

Create a better and more informed

eBay

 RFP Response proposal
Brief your C-level executives before a sales call
Eliminate the time it takes to build a

eBay

 strategic account plan
Develop more effective

eBay

 account based marketing (1:1 ABM) programs
Discover sales opportunities you're not aware of
Understand the competitive landscape in the account
Ramp up new sales reps faster in new accounts
Need accurate

eBay

 org charts & contact info
Insights into

eBay

 IT projects & initiatives
Expand footprint in existing large enterprise accounts
What else can I expect to see in the
eBay

 report?
Comprehensive

eBay

 Business Description
Latest

eBay 

Earnings Call Highlights
Accurate

eBay

 Contacts for the Executive Leadership Team and Board of Directors
Detailed

eBay

 Org Charts on corporate structure, board of directors, and other

eBay

 decision makers and influencers.
Hand curated content from selected articles, interviews, case studies, and success stories (representing dozens of hours of research)
Technology Executive Insights to existing IT & telecom systems, projects, initiatives, and internal code names for applications, systems, and IT business units

eBay

SWOT Analysis - Strengths, Weaknesses, Opportunities and Threats

eBay

PESTLE Analysis - Political, Economic, Social, Technological, Legal and Environmental
Insights gleaned from technology-related

eBay

 

job descriptions
Important excerpts and highlights from the

eBay

 Annual Report (10-K), Proxy Statement, Investor Presentation, and ESG Report.
How long does it take to update and build out the
eBay

 Company Profile Report?

It typically takes 3 to 5 business days for the databahn research team to customize and deliver the report. Depending what's being asked of us, sometimes we can turn it around in several days. We will do our best to accommodate your schedule and needs.

 

Express Checkout the eBay Company Profile Report
OUR GUARANTEE
If you're not completely satisfied with the report, we will refund the total purchase amount.
About databahn
Founded in 2015, databahn is an account intelligence company headquartered in Nashua, NH. The databahn research team specialize in providing comprehensive and up-to-date company profiles on Fortune 1000 and Global 2000 companies. databahn offers a range of information services, including deep dive company profile reports, financial insights, news updates, competitive analysis, and accurate contact information. databahn's account intelligence is meticulously curated, enabling businesses to make informed decisions, identify sales opportunities, and gain a competitive edge. With the focus on accuracy, completeness, and timeliness, databahn serves as a valuable resource for sales and marketing professionals and other industries that require reliable and actionable insights on large & complex enterprise companies.