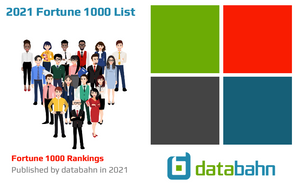 databahn
2021 Fortune 1000 List | Excel spreadsheet list download file
Sale price Price $ 17.50 Regular price
2021 Fortune 1000 List - Free Download
November 3, 2021
Please download the 2021 Fortune 1000 list as an Excel spreadsheet file.
Fields in the 2021 Fortune 1000 list include FORTUNE RANK | COMPANY NAMES | TICKER SYMBOLS | HEADQUARTERS PHONE NUMBERS | WEBSITE URLS | INDUSTRY SECTORS | ANNUAL REVENUES | MARKET CAPS | EMPLOYEE COUNTS | HEADQUARTERS CITY | HEADQUARTERS STATES | HEADQUARTERS MAILING ADDRESSES | CEO NAMES | BUSINESS DESCRIPTIONS and more financial data points.
And, please consider leaving a review with a nice comment about how you're going to use the Fortune 1000 list along with a five star ⭐⭐⭐⭐⭐  review. Thank you.
      ⮕ Looking for specific Contact Information?
      ⮕ Need to refresh data in your CRM system?
      ⮕ Need to see department Budget information?
      ⮕ Would it help to know what your Competitors are doing?
      ⮕ What else are you looking for?
Please send us an email with your request and someone will respond within 24 hours. info@databahn.com 
2021 Fortune 1000 list
| | | | | | | | | | | |
| --- | --- | --- | --- | --- | --- | --- | --- | --- | --- | --- |
| 2021 FORTUNE RANK | COMPANY NAME | ANNUAL REVENUE ($M) | EMPLOYEES | CEO | CEO TITLE | SECTOR | INDUSTRY | HQ CITY | HQ STATE | WEBSITE |
| 1 | Walmart | $514,405 | 2,200,000 | C. Douglas McMillon | President, Chief Executive Officer & Director | Retailing | General Merchandisers | Bentonville | AR | http://www.walmart.com |
| 2 | Exxon Mobil | $290,212 | 71,000 | Darren W. Woods | Chairman & Chief Executive Officer | Energy | Petroleum Refining | Irving | TX | http://www.exxonmobil.com |
| 3 | Apple | $265,595 | 132,000 | Timothy D. Cook | President, Chief Executive Officer & Director | Technology | Computers, Office Equipment | Cupertino | CA | http://www.apple.com |
| 4 | Berkshire Hathaway | $247,837 | 389,000 | Warren E. Buffett | Chairman, President & Chief Executive Officer | Financials | Insurance: Property and Casualty (Stock) | Omaha | NE | http://www.berkshirehathaway.com |
| 5 | Amazon.com | $232,887 | 647,500 | Jeffrey P. Bezos | Chairman, President & Chief Executive Officer | Retailing | Internet Services and Retailing | Seattle | WA | http://www.amazon.com |
| 6 | UnitedHealth Group | $226,247 | 300,000 | David S. Wichmann | President, Chief Executive Officer & Director | Health Care | Health Care: Insurance and Managed Care | Minnetonka | MN | http://www.unitedhealthgroup.com |
| 7 | McKesson | $208,357 | 68,000 | Brian S. Tyler | President, Chief Executive Officer & Director | Health Care | Wholesalers: Health Care | Irving | TX | http://www.mckesson.com |
| 8 | CVS Health | $194,579 | 295,000 | Larry J. Merlo | President, Chief Executive Officer & Director | Health Care | Health Care: Pharmacy and Other Services | Woonsocket | RI | http://www.cvshealth.com |
| 9 | AT&T | $170,756 | 268,220 | Randall L. Stephenson | Chairman, President & Chief Executive Officer | Telecommunications | Telecommunications | Dallas | TX | http://www.att.com |
| 10 | AmerisourceBergen | $167,939.60 | 20,500 | Steven H. Collis | Chairman, President & Chief Executive Officer | Health Care | Wholesalers: Health Care | Chesterbrook | PA | http://www.amerisourcebergen.com |
| 11 | Chevron | $166,339 | 48,600 | Michael K. Wirth | Chairman & Chief Executive Officer | Energy | Petroleum Refining | San Ramon | CA | http://www.chevron.com |
| 12 | Ford Motor | $160,338 | 199,000 | James P. Hackett | President, Chief Executive Officer & Director | Motor Vehicles & Parts | Motor Vehicles and Parts | Dearborn | MI | http://www.corporate.ford.com |
| 13 | General Motors | $147,049 | 173,000 | Mary T. Barra | Chairman & Chief Executive Officer | Motor Vehicles & Parts | Motor Vehicles and Parts | Detroit | MI | http://www.gm.com |
| 14 | Costco Wholesale | $141,576 | 194,000 | W. Craig Jelinek | President, Chief Executive Officer & Director | Retailing | General Merchandisers | Issaquah | WA | http://www.costco.com |
| 15 | Alphabet | $136,819 | 98,771 | Larry Page | Chief Executive Officer & Director | Technology | Internet Services and Retailing | Mountain View | CA | http://www.abc.xyz |
| 16 | Cardinal Health | $136,809 | 50,200 | Michael C. Kaufmann | Chairman & Chief Executive Officer | Health Care | Wholesalers: Health Care | Dublin | OH | http://www.cardinalhealth.com |
| 17 | Walgreens Boots Alliance | $131,537 | 299,000 | Stefano Pessina | Chairman & Chief Executive Officer | Food & Drug Stores | Food and Drug Stores | Deerfield | IL | http://www.walgreensbootsalliance.com |
| 18 | JPMorgan Chase | $131,412 | 256,105 | James Dimon | Chairman & Chief Executive Officer | Financials | Commercial Banks | New York | NY | http://www.jpmorganchase.com |
| 19 | Verizon Communications | $130,863 | 144,500 | Hans E. Vestberg | Chairman & Chief Executive Officer | Telecommunications | Telecommunications | New York | NY | http://www.verizon.com |
| 20 | Kroger | $121,162 | 453,000 | W. Rodney McMullen | Chairman & Chief Executive Officer | Food & Drug Stores | Food and Drug Stores | Cincinnati | OH | http://www.thekrogerco.com |
| 21 | General Electric | $120,268 | 283,000 | H. Lawrence Culp Jr. | Chairman & Chief Executive Officer | Industrials | Industrial Machinery | Boston | MA | http://www.ge.com |
| 22 | Fannie Mae | $120,101 | 7,400 | Hugh R. Frater | Chief Executive Officer & Director | Financials | Diversified Financials | Washington | DC | http://www.fanniemae.com |
| 23 | Phillips 66 | $114,217 | 14,200 | Greg C. Garland | Chairman & Chief Executive Officer | Energy | Petroleum Refining | Houston | TX | http://www.phillips66.com |
| 24 | Valero Energy | $111,407 | 10,261 | Joseph W. Gorder | Chairman, President & Chief Executive Officer | Energy | Petroleum Refining | San Antonio | TX | http://www.valero.com |
| 25 | Bank of America | $110,584 | 204,489 | Brian T. Moynihan | Chairman & Chief Executive Officer | Financials | Commercial Banks | Charlotte | NC | http://www.bankofamerica.com |
| 26 | Microsoft | $110,360 | 131,000 | Satya Nadella | Chief Executive Officer & Director | Technology | Computer Software | Redmond | WA | http://www.microsoft.com |
| 27 | Home Depot | $108,203 | 413,000 | Craig A. Menear | Chairman, President & Chief Executive Officer | Retailing | Specialty Retailers: Other | Atlanta | GA | http://www.homedepot.com |
| 28 | Boeing | $101,127 | 153,000 | Dennis A. Muilenburg | Chairman, President & Chief Executive Officer | Aerospace & Defense | Aerospace and Defense | Chicago | IL | http://www.boeing.com |
| 29 | Wells Fargo | $101,060 | 258,700 | C. Allen Parker | Interim Chief Executive Officer & Director | Financials | Commercial Banks | San Francisco | CA | http://www.wellsfargo.com |
| 30 | Citigroup | $97,120 | 204,000 | Michael L. Corbat | Chairman & Chief Executive Officer | Financials | Commercial Banks | New York | NY | http://www.citigroup.com |
| 31 | Marathon Petroleum | $97,102 | 60,350 | Gary R. Heminger | Chairman & Chief Executive Officer | Energy | Petroleum Refining | Findlay | OH | http://www.marathonpetroleum.com |
| 32 | Comcast | $94,507 | 184,000 | Brian L. Roberts | Chairman, President & Chief Executive Officer | Telecommunications | Telecommunications | Philadelphia | PA | http://www.comcastcorporation.com |
| 33 | Anthem | $92,105 | 63,900 | Gail K. Boudreaux | President, Chief Executive Officer & Director | Health Care | Health Care: Insurance and Managed Care | Indianapolis | IN | http://www.antheminc.com |
| 34 | Dell Technologies | $90,621 | 157,000 | Michael S. Dell | Chairman & Chief Executive Officer | Technology | Computers, Office Equipment | Round Rock | TX | http://www.delltechnologies.com |
| 35 | DowDuPont | $85,977 | 98,000 | Edward D. Breen | Chairman & Chief Executive Officer | Chemicals | Chemicals | Wilmington | DE | http://www.dow-dupont.com |
| 36 | State Farm Insurance | $81,732.20 | 56,788 | Michael L. Tipsord | Chairman, President & Chief Executive Officer | Financials | Insurance: Property and Casualty (Mutual) | Bloomington | IL | http://www.statefarm.com |
| 37 | Johnson & Johnson | $81,581 | 135,100 | Alex Gorsky | Chairman & Chief Executive Officer | Health Care | Pharmaceuticals | New Brunswick | NJ | http://www.jnj.com |
| 38 | IBM | $79,591 | 381,100 | Virginia M. Rometty | Chairman, President & Chief Executive Officer | Technology | Information Technology Services | Armonk | NY | http://www.ibm.com |
| 39 | Target | $75,356 | 360,000 | Brian C. Cornell | Chairman & Chief Executive Officer | Retailing | General Merchandisers | Minneapolis | MN | http://www.target.com |
| 40 | Freddie Mac | $73,598 | 6,621 | Donald H. Layton | Chief Executive Officer & Director | Financials | Diversified Financials | McLean | VA | http://www.freddiemac.com |
| 41 | United Parcel Service | $71,861 | 364,575 | David P. Abney | Chairman & Chief Executive Officer | Transportation | Mail, Package, and Freight Delivery | Atlanta | GA | http://www.ups.com |
| 42 | Lowe's | $71,309 | 245,000 | Marvin R. Ellison | President, Chief Executive Officer & Director | Retailing | Specialty Retailers: Other | Mooresville | NC | http://www.lowes.com |
| 43 | Intel | $70,848 | 107,400 | Robert H. Swan | Chief Executive Officer & Director | Technology | Semiconductors and Other Electronic Components | Santa Clara | CA | http://www.intel.com |
| 44 | MetLife | $67,941 | 48,000 | Michel A. Khalaf | Chief Executive Officer & Director | Financials | Insurance: Life, Health (stock) | New York | NY | http://www.metlife.com |
| 45 | Procter & Gamble | $66,832 | 92,000 | David S. Taylor | Chairman, President & Chief Executive Officer | Household Products | Household and Personal Products | Cincinnati | OH | http://www.pg.com |
| 46 | United Technologies | $66,501 | 240,200 | Gregory J. Hayes | Chairman, President & Chief Executive Officer | Aerospace & Defense | Aerospace and Defense | Farmington | CT | http://www.utc.com |
| 47 | FedEx | $65,450 | 359,000 | Frederick W. Smith | Chairman & Chief Executive Officer | Transportation | Mail, Package, and Freight Delivery | Memphis | TN | http://www.fedex.com |
| 48 | PepsiCo | $64,661 | 267,000 | Ramon L. Laguarta | Chairman & Chief Executive Officer | Food, Beverages & Tobacco | Food Consumer Products | Purchase | NY | http://www.pepsico.com |
| 49 | Archer Daniels Midland | $64,341 | 31,600 | Juan R. Luciano | Chairman, President & Chief Executive Officer | Food, Beverages & Tobacco | Food Production | Chicago | IL | http://www.adm.com |
| 50 | Prudential Financial | $62,992 | 50,492 | Charles F. Lowrey | Chairman, President & Chief Executive Officer | Financials | Insurance: Life, Health (stock) | Newark | NJ | http://www.prudential.com |
| 51 | Centene | $60,116 | 47,300 | Michael F. Neidorff | Chairman & Chief Executive Officer | Health Care | Health Care: Insurance and Managed Care | St. Louis | MO | http://www.centene.com |
| 52 | Albertsons | $59,924.60 | 275,000 | Vivek Sankaran | President, Chief Executive Officer & Director | Food & Drug Stores | Food and Drug Stores | Boise | ID | http://www.albertsonscompanies.com |
| 53 | Walt Disney | $59,434 | 201,000 | Robert A. Iger | Chairman & Chief Executive Officer | Media | Entertainment | Burbank | CA | http://thewaltdisneycompany.com |
| 54 | Sysco | $58,727.30 | 67,000 | Thomas L. Bené | Chairman, President & Chief Executive Officer | Wholesalers | Wholesalers: Food and Grocery | Houston | TX | http://www.sysco.com |
| 55 | HP | $58,472 | 55,000 | Dion J. Weisler | President, Chief Executive Officer & Director | Technology | Computers, Office Equipment | Palo Alto | CA | http://www.hp.com |
| 56 | Humana | $56,912 | 41,600 | Bruce D. Broussard | President, Chief Executive Officer & Director | Health Care | Health Care: Insurance and Managed Care | Louisville | KY | http://www.humana.com |
| 57 | Facebook | $55,838 | 35,587 | Mark Zuckerberg | Chairman & Chief Executive Officer | Technology | Internet Services and Retailing | Menlo Park | CA | http://www.facebook.com |
| 58 | Caterpillar | $54,722 | 104,000 | D. James Umpleby III | Chairman & Chief Executive Officer | Industrials | Construction and Farm Machinery | Deerfield | IL | http://www.caterpillar.com |
| 59 | Energy Transfer | $54,436 | 11,768 | Kelcy L. Warren | Chairman & Chief Executive Officer | Energy | Pipelines | Dallas | TX | http://www.energytransfer.com |
| 60 | Lockheed Martin | $53,762 | 105,000 | Marillyn A. Hewson | Chairman, President & Chief Executive Officer | Aerospace & Defense | Aerospace and Defense | Bethesda | MD | http://www.lockheedmartin.com |
| 61 | Pfizer | $53,647 | 92,400 | Albert Bourla | Chief Executive Officer & Director | Health Care | Pharmaceuticals | New York | NY | http://www.pfizer.com |
| 62 | Goldman Sachs Group | $52,528 | 36,600 | David M. Solomon | Chairman & Chief Executive Officer | Financials | Commercial Banks | New York | NY | http://www.goldmansachs.com |
| 63 | Morgan Stanley | $50,193 | 60,348 | James P. Gorman | Chairman & Chief Executive Officer | Financials | Commercial Banks | New York | NY | http://www.morganstanley.com |
| 64 | Cisco Systems | $49,330 | 74,200 | Charles H. Robbins | Chairman & Chief Executive Officer | Technology | Network and Other Communications Equipment | San Jose | CA | http://www.cisco.com |
| 65 | Cigna | $48,650 | 73,800 | David M. Cordani | President, Chief Executive Officer & Director | Health Care | Health Care: Insurance and Managed Care | Bloomfield | CT | http://www.cigna.com |
| 66 | AIG | $47,389 | 49,600 | Brian Duperreault | President, Chief Executive Officer & Director | Financials | Insurance: Property and Casualty (Stock) | New York | NY | http://www.aig.com |
| 67 | HCA Healthcare | $46,677 | 229,000 | Samuel N. Hazen | Chief Executive Officer & Director | Health Care | Health Care: Medical Facilities | Nashville | TN | http://www.hcahealthcare.com |
| 68 | American Airlines Group | $44,541 | 128,900 | W. Douglas Parker | Chairman & Chief Executive Officer | Transportation | Airlines | Fort Worth | TX | http://www.aa.com |
| 69 | Delta Air Lines | $44,438 | 88,680 | Edward H. Bastian | Chairman & Chief Executive Officer | Transportation | Airlines | Atlanta | GA | http://www.delta.com |
| 70 | Charter Communications | $43,634 | 98,000 | Thomas M. Rutledge | Chairman & Chief Executive Officer | Telecommunications | Telecommunications | Stamford | CT | http://www.charter.com |
| 71 | New York Life Insurance | $43,425.30 | 11,388 | Theodore A. Mathas | Chairman & Chief Executive Officer | Financials | Insurance: Life, Health (Mutual) | New York | NY | http://www.newyorklife.com |
| 72 | American Express | $43,281 | 59,000 | Stephen J. Squeri | Chairman & Chief Executive Officer | Financials | Diversified Financials | New York | NY | http://www.americanexpress.com |
| 73 | Nationwide | $43,270 | 30,472 | Stephen S. Rasmussen | Chief Executive Officer & Director | Financials | Insurance: Property and Casualty (Mutual) | Columbus | OH | http://www.nationwide.com |
| 74 | Best Buy | $42,879 | 125,000 | Corie Barry | Chief Executive Officer & Director | Retailing | Specialty Retailers: Other | Richfield | MN | http://www.bestbuy.com |
| 75 | Liberty Mutual Insurance Group | $42,685 | 50,000 | David H. Long | Chairman, President & Chief Executive Officer | Financials | Insurance: Property and Casualty (Stock) | Boston | MA | http://www.libertymutual.com |
| 76 | Merck | $42,294 | 69,000 | Kenneth C. Frazier | Chairman, President & Chief Executive Officer | Health Care | Pharmaceuticals | Kenilworth | NJ | http://www.merck.com |
| 77 | Honeywell International | $41,802 | 114,000 | Darius E. Adamczyk | Chairman, President & Chief Executive Officer | Industrials | Electronics, Electrical Equip. | Morris Plains | NJ | http://www.honeywell.com |
| 78 | United Continental Holdings | $41,303 | 92,000 | Oscar Munoz | Chief Executive Officer & Director | Transportation | Airlines | Chicago | IL | http://www.united.com |
| 79 | TIAA | $41,052.10 | 17,643 | Roger W. Ferguson Jr. | Chief Executive Officer & Director | Financials | Insurance: Life, Health (Mutual) | New York | NY | http://www.tiaa.org |
| 80 | Tyson Foods | $40,052 | 121,000 | Noel White | President, Chief Executive Officer & Director | Food, Beverages & Tobacco | Food Production | Springdale | AR | http://www.tysonfoods.com |
| 81 | Oracle | $39,831 | 137,000 | Safra A. Catz/Mark V. Hurd | Co-Chief Executive Officer & Director | Technology | Computer Software | Redwood City | CA | http://www.oracle.com |
| 82 | Allstate | $39,815 | 45,420 | Thomas J. Wilson | Chairman, President & Chief Executive Officer | Financials | Insurance: Property and Casualty (Stock) | Northbrook | IL | http://www.allstate.com |
| 83 | World Fuel Services | $39,750.30 | 5,000 | Michael J. Kasbar | Chairman, President & Chief Executive Officer | Energy | Energy | Miami | FL | http://www.wfscorp.com |
| 84 | Massachusetts Mutual Life Insurance | $39,267.20 | 9,844 | Roger W. Crandall | Chairman, President & Chief Executive Officer | Financials | Insurance: Life, Health (Mutual) | Springfield | MA | http://www.massmutual.com |
| 85 | TJX | $38,972.90 | 270,000 | Ernie L. Herrman | Chairman & Chief Executive Officer | Retailing | Specialty Retailers: Apparel | Framingham | MA | http://www.tjx.com |
| 86 | ConocoPhillips | $38,727 | 10,800 | Ryan M. Lance | Chairman & Chief Executive Officer | Energy | Mining, Crude-Oil Production | Houston | TX | http://www.conocophillips.com |
| 87 | Deere | $37,357.70 | 74,413 | Samuel R. Allen | Chairman & Chief Executive Officer | Industrials | Construction and Farm Machinery | Moline | IL | http://www.johndeere.com |
| 88 | Tech Data | $37,239 | 14,000 | Richard T. Hume | Chief Executive Officer & Director | Wholesalers | Wholesalers: Electronics and Office Equipment | Clearwater | FL | http://www.techdata.com |
| 89 | Enterprise Products Partners | $36,534.20 | 7,000 | A. James Teague | Chief Executive Officer & Director | Energy | Pipelines | Houston | TX | http://www.enterpriseproducts.com |
| 90 | Nike | $36,397 | 73,100 | Mark G. Parker | Chairman, President & Chief Executive Officer | Apparel | Apparel | Beaverton | OR | http://www.nike.com |
| 91 | Publix Super Markets | $36,395.70 | 202,000 | Randall T. Jones Sr. | President, Chief Executive Officer & Director | Food & Drug Stores | Food and Drug Stores | Lakeland | FL | http://www.publix.com |
| 92 | General Dynamics | $36,193 | 105,600 | Phebe N. Novakovic | Chairman & Chief Executive Officer | Aerospace & Defense | Aerospace and Defense | Falls Church | VA | http://www.generaldynamics.com |
| 93 | Exelon | $35,985 | 33,383 | Christopher M. Crane | President, Chief Executive Officer & Director | Energy | Utilities: Gas and Electric | Chicago | IL | http://www.exeloncorp.com |
| 94 | Plains GP Holdings | $34,055 | 4,900 | Wilfred C.W. Chiang | Chief Executive Officer & Director | Energy | Pipelines | Houston | TX | http://www.plainsallamerican.com |
| 95 | 3M | $32,765 | 93,516 | Michael F. Roman | Chief Executive Officer & Director | Industrials | Miscellaneous | St. Paul | MN | http://www.3m.com |
| 96 | AbbVie | $32,753 | 30,000 | Richard A. Gonzalez | Chairman & Chief Executive Officer | Health Care | Pharmaceuticals | North Chicago | IL | http://www.abbvie.com |
| 97 | CHS | $32,683.30 | 10,495 | Jay D. Debertin | President, Chief Executive Officer & Director | Food, Beverages & Tobacco | Food Production | Inver Grove Heights | MN | http://www.chsinc.com |
| 98 | Capital One Financial | $32,377 | 47,600 | Richard D. Fairbank | Chairman, President & Chief Executive Officer | Financials | Commercial Banks | McLean | VA | http://www.capitalone.com |
| 99 | Progressive | $31,979 | 37,346 | Susan Patricia Griffith | President, Chief Executive Officer & Director | Financials | Insurance: Property and Casualty (Stock) | Mayfield Village | OH | http://www.progressive.com |
| 100 | Coca-Cola | $31,856 | 62,600 | James R. Quincey | Chief Executive Officer & Director | Food, Beverages & Tobacco | Beverages | Atlanta | GA | http://www.coca-colacompany.com |
| 101 | USAA | $31,367.80 | 33,689 | Stuart Parker | President, Chief Executive Officer & Director | Financials | Insurance: Property and Casualty (Stock) | San Antonio | TX | http://www.usaa.com |
| 102 | Hewlett Packard Enterprise | $30,852 | 60,000 | Antonio Neri | President, Chief Executive Officer & Director | Technology | Computers, Office Equipment | Palo Alto | CA | http://www.hpe.com |
| 103 | Abbott Laboratories | $30,578 | 103,000 | Miles D. White | Chairman & Chief Executive Officer | Health Care | Medical Products and Equipment | Abbott Park | IL | http://www.abbott.com |
| 104 | Twenty-First Century Fox | $30,400 | 22,400 | James R. Murdoch | Chief Executive Officer & Director | Media | Entertainment | New York | NY | http://www.thewaltdisneycompany.com |
| 105 | Micron Technology | $30,391 | 36,000 | Sanjay Mehrotra | President, Chief Executive Officer & Director | Technology | Semiconductors and Other Electronic Components | Boise | ID | http://www.micron.com |
| 106 | Travelers | $30,282 | 30,400 | Alan D. Schnitzer | Chairman & Chief Executive Officer | Financials | Insurance: Property and Casualty (Stock) | New York | NY | http://www.travelers.com |
| 107 | Rite Aid | $30,215.40 | 48,410 | John T. Standley | Chief Executive Officer & Director | Food & Drug Stores | Food and Drug Stores | Camp Hill | PA | http://www.riteaid.com |
| 108 | Northrop Grumman | $30,095 | 85,000 | Kathy J. Warden | President, Chief Executive Officer & Director | Aerospace & Defense | Aerospace and Defense | Falls Church | VA | http://www.northropgrumman.com |
| 109 | Arrow Electronics | $29,676.80 | 20,100 | Michael J. Long | Chairman, President & Chief Executive Officer | Wholesalers | Wholesalers: Electronics and Office Equipment | Centennial | CO | http://www.arrow.com |
| 110 | Philip Morris International | $29,625 | 77,400 | André Calantzopoulos | Chief Executive Officer & Director | Food, Beverages & Tobacco | Tobacco | New York | NY | http://www.pmi.com |
| 111 | Northwestern Mutual | $29,124 | 5,870 | John E. Schlifske | Chairman, President & Chief Executive Officer | Financials | Insurance: Life, Health (Mutual) | Milwaukee | WI | http://www.northwesternmutual.com |
| 112 | INTL FCStone | $27,622.70 | 1,701 | Sean M. O'Connor | President, Chief Executive Officer & Director | Financials | Diversified Financials | New York | NY | http://www.intlfcstone.com |
| 113 | PBF Energy | $27,186.10 | 3,266 | Thomas J. Nimbley | Chairman & Chief Executive Officer | Energy | Petroleum Refining | Parsippany | NJ | http://www.pbfenergy.com |
| 114 | Raytheon | $27,058 | 67,000 | Thomas A. Kennedy | Chairman & Chief Executive Officer | Aerospace & Defense | Aerospace and Defense | Waltham | MA | http://www.raytheon.com |
| 115 | Kraft Heinz | $26,259 | 39,000 | Bernardo Hees | Chief Executive Officer & Director | Food, Beverages & Tobacco | Food Consumer Products | Pittsburgh | PA | http://www.kraftheinzcompany.com |
| 116 | Mondelez International | $25,938 | 80,000 | Dirk Van de Put | Chairman & Chief Executive Officer | Food, Beverages & Tobacco | Food Consumer Products | Deerfield | IL | http://www.mondelezinternational.com |
| 117 | US Bancorp | $25,775 | 75,772 | Andrew J. Cecere | President, Chief Executive Officer & Director | Financials | Commercial Banks | Minneapolis | MN | http://www.usbank.com |
| 118 | Macy's | $25,739 | 130,000 | Jeffrey Gennette | Chairman & Chief Executive Officer | Retailing | General Merchandisers | Cincinnati | OH | http://www.macysinc.com |
| 119 | Dollar General | $25,625 | 135,000 | Todd J. Vasos | Chief Executive Officer & Director | Retailing | Specialty Retailers: Other | Goodlettsville | TN | http://www.dollargeneral.com |
| 120 | Nucor | $25,067.30 | 26,300 | John J. Ferriola | Chairman, President & Chief Executive Officer | Materials | Metals | Charlotte | NC | http://www.nucor.com |
| 121 | Starbucks | $24,719.50 | 291,000 | Kevin R. Johnson | President, Chief Executive Officer & Director | Hotels, Restaurants & Leisure | Food Services | Seattle | WA | http://www.starbucks.com |
| 122 | DXC Technology | $24,556 | 150,000 | J. Michael Lawrie | Chairman, President & Chief Executive Officer | Technology | Information Technology Services | Tysons | VA | http://www.dxc.technology |
| 123 | Eli Lilly | $24,555.70 | 38,680 | David A. Ricks | Chairman, President & Chief Executive Officer | Health Care | Pharmaceuticals | Indianapolis | IN | http://www.lilly.com |
| 124 | Thermo Fisher Scientific | $24,358 | 69,200 | Marc N. Casper | President, Chief Executive Officer & Director | Technology | Scientific,Photographic and Control Equipment | Waltham | MA | http://www.thermofisher.com |
| 125 | US Foods Holding | $24,175 | 24,900 | Pietro Satriano | Chairman & Chief Executive Officer | Wholesalers | Wholesalers: Food and Grocery | Rosemont | IL | http://www.usfoods.com |
| 126 | Duke Energy | $24,116 | 30,083 | Lynn J. Good | Chairman, President & Chief Executive Officer | Energy | Utilities: Gas and Electric | Charlotte | NC | http://www.duke-energy.com |
| 127 | Halliburton | $23,995 | 60,000 | Jeffrey A. Miller | President, Chief Executive Officer & Director | Energy | Oil and Gas Equipment, Services | Houston | TX | http://www.halliburton.com |
| 128 | Cummins | $23,771 | 62,610 | N. Thomas Linebarger | Chairman & Chief Executive Officer | Industrials | Industrial Machinery | Columbus | IN | http://www.cummins.com |
| 129 | Amgen | $23,747 | 21,500 | Robert A. Bradway | Chairman, President & Chief Executive Officer | Health Care | Pharmaceuticals | Thousand Oaks | CA | http://www.amgen.com |
| 130 | Paccar | $23,495.70 | 28,000 | Ronald E. Armstrong | Chief Executive Officer & Director | Industrials | Construction and Farm Machinery | Bellevue | WA | http://www.paccar.com |
| 131 | Southern | $23,495 | 30,286 | Thomas A. Fanning | Chairman, President & Chief Executive Officer | Energy | Utilities: Gas and Electric | Atlanta | GA | http://www.southerncompany.com |
| 132 | CenturyLink | $23,443 | 45,000 | Jeffrey K. Storey | President, Chief Executive Officer & Director | Telecommunications | Telecommunications | Monroe | LA | http://www.centurylink.com |
| 133 | International Paper | $23,306 | 53,000 | Mark S. Sutton | Chairman & Chief Executive Officer | Materials | Packaging, Containers | Memphis | TN | http://www.internationalpaper.com |
| 134 | Union Pacific | $22,832 | 41,967 | Lance M. Fritz | Chairman, President & Chief Executive Officer | Transportation | Railroads | Omaha | NE | http://www.up.com |
| 135 | Dollar Tree | $22,823.30 | 119,650 | Gary M. Philbin | President, Chief Executive Officer & Director | Retailing | Specialty Retailers: Other | Chesapeake | VA | http://www.dollartree.com |
| 136 | Penske Automotive Group | $22,785.10 | 27,000 | Roger S. Penske | Chairman & Chief Executive Officer | Retailing | Automotive Retailing, Services | Bloomfield Hills | MI | http://www.penskeautomotive.com |
| 137 | Qualcomm | $22,732 | 35,400 | Steven M. Mollenkopf | Chief Executive Officer & Director | Technology | Semiconductors and Other Electronic Components | San Diego | CA | http://www.qualcomm.com |
| 138 | Bristol-Myers Squibb | $22,561 | 23,300 | Giovanni Caforio | Chairman & Chief Executive Officer | Health Care | Pharmaceuticals | New York | NY | http://www.bms.com |
| 139 | Gilead Sciences | $22,127 | 11,000 | Daniel O'Day | Chairman & Chief Executive Officer | Health Care | Pharmaceuticals | Foster City | CA | http://www.gilead.com |
| 140 | Jabil | $22,095.40 | 199,000 | Mark T. Mondello | Chief Executive Officer & Director | Technology | Semiconductors and Other Electronic Components | St. Petersburg | FL | http://www.jabil.com |
| 141 | ManpowerGroup | $21,991.20 | 30,000 | Jonas Prising | Chairman & Chief Executive Officer | Business Services | Temporary Help | Milwaukee | WI | http://www.manpowergroup.com |
| 142 | Southwest Airlines | $21,965 | 58,803 | Gary C. Kelly | Chairman & Chief Executive Officer | Transportation | Airlines | Dallas | TX | http://www.southwest.com |
| 143 | Aflac | $21,758 | 11,390 | Daniel P. Amos | Chairman, President & Chief Executive Officer | Financials | Insurance: Life, Health (stock) | Columbus | GA | http://www.aflac.com |
| 144 | Tesla | $21,461.30 | 48,817 | Elon Musk | Chief Executive Officer & Director | Motor Vehicles & Parts | Motor Vehicles and Parts | Palo Alto | CA | http://www.tesla.com |
| 145 | AutoNation | $21,412.80 | 26,000 | Carl C. Liebert III | President, Chief Executive Officer & Director | Retailing | Automotive Retailing, Services | Fort Lauderdale | FL | http://www.autonation.com |
| 146 | CBRE Group | $21,340.10 | 90,000 | Robert E. Sulentic | President, Chief Executive Officer & Director | Financials | Real estate | Los Angeles | CA | http://www.cbre.com |
| 147 | Lear | $21,148.50 | 169,000 | Raymond E. Scott | President, Chief Executive Officer & Director | Motor Vehicles & Parts | Motor Vehicles and Parts | Southfield | MI | http://www.lear.com |
| 148 | Whirlpool | $21,037 | 92,000 | Marc R. Bitzer | Chairman, President & Chief Executive Officer | Industrials | Electronics, Electrical Equip. | Benton Harbor | MI | http://www.whirlpoolcorp.com |
| 149 | McDonald's | $21,025.20 | 210,000 | Stephen J. Easterbrook | President, Chief Executive Officer & Director | Hotels, Restaurants & Leisure | Food Services | Chicago | IL | http://www.aboutmcdonalds.com |
| 150 | Broadcom | $20,848 | 15,000 | Hock E. Tan | Chairman, President & Chief Executive Officer | Technology | Semiconductors and Other Electronic Components | San Jose | CA | http://www.broadcom.com |
| 151 | Marriott International | $20,758 | 176,000 | Arne M. Sorenson | President, Chief Executive Officer & Director | Hotels, Restaurants & Leisure | Hotels, Casinos, Resorts | Bethesda | MD | http://www.marriott.com |
| 152 | Western Digital | $20,647 | 71,600 | Stephen D. Milligan | Chief Executive Officer & Director | Technology | Computers, Office Equipment | San Jose | CA | http://www.wdc.com |
| 153 | Visa | $20,609 | 17,000 | Alfred F. Kelly Jr. | Chief Executive Officer & Director | Business Services | Financial Data Services | San Francisco | CA | http://www.visa.com |
| 154 | Lennar | $20,571.60 | 11,626 | Richard Beckwitt | Chief Executive Officer & Director | Engineering & Construction | Homebuilders | Miami | FL | http://www.lennar.com |
| 155 | WellCare Health Plans | $20,414.10 | 12,000 | Kenneth A. Burdick | Chief Executive Officer & Director | Health Care | Health Care: Insurance and Managed Care | Tampa | FL | http://www.wellcare.com |
| 156 | Kohl's | $20,229 | 81,500 | Michelle D. Gass | Chief Executive Officer & Director | Retailing | General Merchandisers | Menomonee Falls | WI | http://www.kohls.com |
| 157 | AECOM | $20,155.50 | 87,000 | Michael S. Burke | Chairman & Chief Executive Officer | Engineering & Construction | Engineering, Construction | Los Angeles | CA | http://www.aecom.com |
| 158 | Synnex | $20,053.80 | 231,600 | Dennis Polk | President, Chief Executive Officer & Director | Wholesalers | Wholesalers: Electronics and Office Equipment | Fremont | CA | http://www.synnex.com |
| 159 | PNC Financial Services | $19,993 | 51,996 | William S. Demchak | Chairman, President & Chief Executive Officer | Financials | Commercial Banks | Pittsburgh | PA | http://www.pnc.com |
| 160 | Danaher | $19,893 | 71,000 | Thomas P. Joyce Jr. | President, Chief Executive Officer & Director | Health Care | Medical Products and Equipment | Washington | DC | http://www.danaher.com |
| 161 | Hartford Financial Services | $19,827 | 18,500 | Christopher J. Swift | Chairman & Chief Executive Officer | Financials | Insurance: Property and Casualty (Stock) | Hartford | CT | http://www.thehartford.com |
| 162 | Altria Group | $19,627 | 8,300 | Howard A. Willard III | Chairman & Chief Executive Officer | Food, Beverages & Tobacco | Tobacco | Richmond | VA | http://www.altria.com |
| 163 | Bank of New York Mellon | $19,214 | 51,300 | Charles W. Scharf | Chairman & Chief Executive Officer | Financials | Commercial Banks | New York | NY | http://www.bnymellon.com |
| 164 | Fluor | $19,166.60 | 53,349 | Carlos M. Hernandez | Interim Chief Executive Officer | Engineering & Construction | Engineering, Construction | Irving | TX | http://www.fluor.com |
| 165 | Avnet | $19,036.90 | 15,400 | William J. Amelio | Chief Executive Officer & Director | Wholesalers | Wholesalers: Electronics and Office Equipment | Phoenix | AZ | http://www.avnet.com |
| 166 | Icahn Enterprises | $18,979 | 29,034 | Keith Cozza | President, Chief Executive Officer & Director | Financials | Diversified Financials | New York | NY | http://www.ielp.com |
| 167 | Occidental Petroleum | $18,934 | 11,000 | Vicki A. Hollub | President, Chief Executive Officer & Director | Energy | Mining, Crude-Oil Production | Houston | TX | http://www.oxy.com |
| 168 | Molina Healthcare | $18,890 | 11,000 | Joseph M. Zubretsky | President, Chief Executive Officer & Director | Health Care | Health Care: Insurance and Managed Care | Long Beach | CA | http://www.molinahealthcare.com |
| 169 | Genuine Parts | $18,735.10 | 50,000 | Paul D. Donahue | President, Chief Executive Officer & Director | Wholesalers | Wholesalers: Diversified | Atlanta | GA | http://www.genpt.com |
| 170 | Freeport-McMoRan | $18,628 | 26,800 | Richard C. Adkerson | Vice Chairman, President & Chief Executive Officer | Energy | Mining, Crude-Oil Production | Phoenix | AZ | http://www.fcx.com |
| 171 | Kimberly-Clark | $18,486 | 41,000 | Michael D. Hsu | Chief Executive Officer & Director | Household Products | Household and Personal Products | Irving | TX | http://www.kimberly-clark.com |
| 172 | Tenet Healthcare | $18,313 | 102,795 | Ronald A. Rittenmeyer | Chairman & Chief Executive Officer | Health Care | Health Care: Medical Facilities | Dallas | TX | http://www.tenethealth.com |
| 173 | Synchrony Financial | $18,253 | 16,500 | Margaret M. Keane | President, Chief Executive Officer & Director | Financials | Diversified Financials | Stamford | CT | http://www.synchronyfinancial.com |
| 174 | CarMax | $17,976.80 | 25,110 | William D. Nash | President, Chief Executive Officer & Director | Retailing | Automotive Retailing, Services | Richmond | VA | http://www.carmax.com |
| 175 | HollyFrontier | $17,714.70 | 3,622 | George J. Damiris | President, Chief Executive Officer & Director | Energy | Petroleum Refining | Dallas | TX | http://www.hollyfrontier.com |
| 176 | Performance Food Group | $17,619.90 | 15,000 | George L. Holm | Chairman, President & Chief Executive Officer | Wholesalers | Wholesalers: Food and Grocery | Richmond | VA | http://www.pfgc.com |
| 177 | Sherwin-Williams | $17,534.50 | 53,368 | John G. Morikis | Chairman & Chief Executive Officer | Chemicals | Chemicals | Cleveland | OH | http://www.sherwin.com |
| 178 | Emerson Electric | $17,408 | 87,500 | David N. Farr | Chairman & Chief Executive Officer | Industrials | Industrial Machinery | St. Louis | MO | http://www.emerson.com |
| 179 | NGL Energy Partners | $17,282.70 | 2,400 | H. Michael Krimbill | Chief Executive Officer & Director | Energy | Energy | Tulsa | OK | http://www.nglenergypartners.com |
| 180 | XPO Logistics | $17,279 | 100,000 | Bradley S. Jacobs | Chairman & Chief Executive Officer | Transportation | Transportation and Logistics | Greenwich | CT | http://www.xpo.com |
| 181 | EOG Resources | $17,275.40 | 2,800 | William R. Thomas | Chairman & Chief Executive Officer | Energy | Mining, Crude-Oil Production | Houston | TX | http://www.eogresources.com |
| 182 | Applied Materials | $17,253 | 21,000 | Gary E. Dickerson | President, Chief Executive Officer & Director | Technology | Semiconductors and Other Electronic Components | Santa Clara | CA | http://www.appliedmaterials.com |
| 183 | PG&E | $16,759 | 24,000 | William D. Johnson | President, Chief Executive Officer & Director | Energy | Utilities: Gas and Electric | San Francisco | CA | http://www.pgecorp.com |
| 184 | NextEra Energy | $16,727 | 14,300 | James L. Robo | Chairman, President & Chief Executive Officer | Energy | Utilities: Gas and Electric | Juno Beach | FL | http://www.nexteraenergy.com |
| 185 | C.H. Robinson Worldwide | $16,631.20 | 15,262 | Robert C. Biesterfeld Jr. | Chief Executive Officer & Director | Transportation | Transportation and Logistics | Eden Prairie | MN | http://www.chrobinson.com |
| 186 | Gap | $16,580 | 135,000 | Arthur L. Peck | President, Chief Executive Officer & Director | Retailing | Specialty Retailers: Apparel | San Francisco | CA | http://www.gapinc.com |
| 187 | Lincoln National | $16,424 | 11,034 | Dennis R. Glass | President, Chief Executive Officer & Director | Financials | Insurance: Life, Health (stock) | Radnor | PA | http://www.lfg.com |
| 188 | DaVita | $16,368.60 | 77,700 | Javier J. Rodriguez | Chief Executive Officer | Health Care | Health Care: Medical Facilities | Denver | CO | http://www.davita.com |
| 189 | Jones Lang LaSalle | $16,318.40 | 90,000 | Christian Ulbrich | President & Chief Executive Officer | Financials | Real estate | Chicago | IL | http://www.jll.com |
| 190 | WestRock | $16,285.10 | 45,100 | Steven C. Voorhees | President, Chief Executive Officer & Director | Materials | Packaging, Containers | Atlanta | GA | http://www.westrock.com |
| 191 | CDW | $16,240.50 | 9,019 | Christine A. Leahy | President, Chief Executive Officer & Director | Technology | Information Technology Services | Lincolnshire | IL | http://www.cdw.com |
| 192 | American Electric Power | $16,195.70 | 17,582 | Nicholas K. Akins | Chairman, President & Chief Executive Officer | Energy | Utilities: Gas and Electric | Columbus | OH | http://www.aep.com |
| 193 | Cognizant Technology Solutions | $16,125 | 281,600 | Brian Humphries | Chief Executive Officer & Director | Technology | Information Technology Services | Teaneck | NJ | http://www.cognizant.com |
| 194 | D.R. Horton | $16,068 | 8,437 | David V. Auld | President, Chief Executive Officer & Director | Engineering & Construction | Homebuilders | Arlington | TX | http://www.drhorton.com |
| 195 | Becton Dickinson | $15,983 | 76,032 | Vincent A. Forlenza | Chairman & Chief Executive Officer | Health Care | Medical Products and Equipment | Franklin Lakes | NJ | http://www.bd.com |
| 196 | Nordstrom | $15,860 | 74,000 | Erik B. Nordstrom/Peter E. Nordstrom | Co-President, Principal Executive Officer & Director | Retailing | General Merchandisers | Seattle | WA | http://www.nordstrom.com |
| 197 | Netflix | $15,794.30 | 7,100 | Reed Hastings | Chairman, President & Chief Executive Officer | Media | Entertainment | Los Gatos | CA | http://www.netflix.com |
| 198 | Aramark | $15,789.60 | 227,200 | Eric J. Foss | Chairman, President & Chief Executive Officer | Business Services | Diversified Outsourcing Services | Philadelphia | PA | http://www.aramark.com |
| 199 | Texas Instruments | $15,784 | 29,888 | Richard K. Templeton | Chairman, President & Chief Executive Officer | Technology | Semiconductors and Other Electronic Components | Dallas | TX | http://www.ti.com |
| 200 | General Mills | $15,740.40 | 40,000 | Jeffrey L. Harmening | Chairman & Chief Executive Officer | Food, Beverages & Tobacco | Food Consumer Products | Minneapolis | MN | http://www.generalmills.com |
| 201 | Supervalu | $15,679 | 23,000 | Sean F. Griffin | Chief Executive Officer & Director | Food & Drug Stores | Food and Drug Stores | Eden Prairie | MN | http://www.supervalu.com |
| 202 | Colgate-Palmolive | $15,544 | 34,500 | Noel R. Wallace | President, Chief Executive Officer & Director | Household Products | Household and Personal Products | New York | NY | http://www.colgatepalmolive.com |
| 203 | Goodyear Tire & Rubber | $15,475 | 64,000 | Richard J. Kramer | Chairman, President & Chief Executive Officer | Motor Vehicles & Parts | Motor Vehicles and Parts | Akron | OH | http://www.goodyear.com |
| 204 | PayPal Holdings | $15,451 | 21,800 | Daniel H. Schulman | President, Chief Executive Officer & Director | Business Services | Financial Data Services | San Jose | CA | http://www.paypal.com |
| 205 | PPG Industries | $15,374 | 47,300 | Michael H. McGarry | Chairman & Chief Executive Officer | Chemicals | Chemicals | Pittsburgh | PA | http://www.ppg.com |
| 206 | Omnicom Group | $15,290.20 | 70,400 | John D. Wren | Chairman & Chief Executive Officer | Business Services | Advertising, marketing | New York | NY | http://www.omnicomgroup.com |
| 207 | Celgene | $15,281 | 8,852 | Mark J. Alles | Chairman & Chief Executive Officer | Health Care | Pharmaceuticals | Summit | NJ | http://www.celgene.com |
| 208 | Jacobs Engineering Group | $14,984.60 | 77,600 | Steven J. Demetriou | Chairman, President & Chief Executive Officer | Engineering & Construction | Engineering, Construction | Dallas | TX | http://www.jacobs.com |
| 209 | Ross Stores | $14,983.50 | 88,100 | Barbara Rentler | Chief Executive Officer & Director | Retailing | Specialty Retailers: Apparel | Dublin | CA | http://www.rossstores.com |
| 210 | Marsh & McLennan | $14,950 | 66,000 | Daniel S. Glaser | President, Chief Executive Officer & Director | Financials | Diversified Financials | New York | NY | http://www.mmc.com |
| 211 | Mastercard | $14,950 | 66,000 | Daniel S. Glaser | President, Chief Executive Officer & Director | Financials | Diversified Financials | New York | NY | http://www.mmc.com |
| 212 | Land O'Lakes | $14,936.20 | 10,000 | Beth E. Ford | President, Chief Executive Officer & Director | Food, Beverages & Tobacco | Food Consumer Products | Arden Hills | MN | http://www.landolakesinc.com |
| 213 | Waste Management | $14,914 | 43,700 | James C. Fish Jr. | President, Chief Executive Officer & Director | Business Services | Waste Management | Houston | TX | http://www.wm.com |
| 214 | Illinois Tool Works | $14,768 | 48,000 | E. Scott Santi | Chairman & Chief Executive Officer | Industrials | Industrial Machinery | Glenview | IL | http://www.itw.com |
| 215 | Ecolab | $14,668.20 | 49,000 | Douglas M. Baker Jr. | Chairman & Chief Executive Officer | Chemicals | Chemicals | St. Paul | MN | http://www.ecolab.com |
| 216 | Booking Holdings | $14,527 | 24,500 | Glenn D. Fogel | President, Chief Executive Officer & Director | Technology | Internet Services and Retailing | Norwalk | CT | http://www.bookingholdings.com |
| 217 | CBS | $14,514 | 14,750 | Joseph R. Ianniello | President, Interim Chief Executive Officer & Director | Media | Entertainment | New York | NY | http://www.cbscorporation.com |
| 218 | Parker-Hannifin | $14,302.40 | 57,170 | Thomas L. Williams | Chairman & Chief Executive Officer | Industrials | Industrial Machinery | Cleveland | OH | http://www.parker.com |
| 219 | Principal Financial | $14,237.20 | 16,475 | Daniel J. Houston | Chairman, President & Chief Executive Officer | Financials | Insurance: Life, Health (stock) | Des Moines | IA | http://www.principal.com |
| 220 | DTE Energy | $14,212 | 10,600 | Gerard M. Anderson | Chairman & Chief Executive Officer | Energy | Utilities: Gas and Electric | Detroit | MI | http://www.dteenergy.com |
| 221 | BlackRock | $14,198 | 14,900 | Laurence D. Fink | Chairman & Chief Executive Officer | Financials | Securities | New York | NY | http://www.blackrock.com |
| 222 | United States Steel | $14,178 | 29,000 | David B. Burritt | President, Chief Executive Officer & Director | Materials | Metals | Pittsburgh | PA | http://www.ussteel.com |
| 223 | Community Health Systems | $14,155 | 78,500 | Wayne T. Smith | Chairman & Chief Executive Officer | Health Care | Health Care: Medical Facilities | Franklin | TN | http://www.chs.net |
| 224 | Kinder Morgan | $14,144 | 11,012 | Steven J. Kean | Chief Executive Officer & Director | Energy | Pipelines | Houston | TX | http://www.kindermorgan.com |
| 225 | Qurate Retail | $14,070 | 27,226 | Michael A. George | President, Chief Executive Officer & Director | Retailing | Internet Services and Retailing | Englewood | CO | http://www.qurateretail.com |
| 226 | Loews | $14,066 | 17,900 | James S. Tisch | President, Chief Executive Officer & Director | Financials | Insurance: Property and Casualty (Stock) | New York | NY | http://www.loews.com |
| 227 | Arconic | $14,014 | 43,000 | John C. Plant | Chairman & Chief Executive Officer | Aerospace & Defense | Aerospace and Defense | New York | NY | http://www.arconic.com |
| 228 | Stanley Black & Decker | $13,982.40 | 60,767 | James M. Loree | President, Chief Executive Officer & Director | Household Products | Home Equipment, Furnishings | New Britain | CT | http://www.stanleyblackanddecker.com |
| 229 | Textron | $13,972 | 35,000 | Scott C. Donnelly | Chairman, President & Chief Executive Officer | Aerospace & Defense | Aerospace and Defense | Providence | RI | http://www.textron.com |
| 230 | Las Vegas Sands | $13,729 | 51,500 | Sheldon G. Adelson | Chairman & Chief Executive Officer | Hotels, Restaurants & Leisure | Hotels, Casinos, Resorts | Las Vegas | NV | http://www.sands.com |
| 231 | Estee Lauder | $13,683 | 46,000 | Fabrizio Freda | President, Chief Executive Officer & Director | Household Products | Household and Personal Products | New York | NY | http://www.elcompanies.com |
| 232 | DISH Network | $13,621.30 | 16,000 | W. Erik Carlson | President, Chief Executive Officer & Director | Telecommunications | Telecommunications | Englewood | CO | http://www.dish.com |
| 233 | Stryker | $13,601 | 36,000 | Kevin A. Lobo | Chairman & Chief Executive Officer | Health Care | Medical Products and Equipment | Kalamazoo | MI | http://www.stryker.com |
| 234 | Kellogg | $13,547 | 34,000 | Steven A. Cahillane | Chairman, President & Chief Executive Officer | Food, Beverages & Tobacco | Food Consumer Products | Battle Creek | MI | http://www.kelloggcompany.com |
| 235 | Biogen | $13,452.90 | 7,800 | Michel Vounatsos | Chief Executive Officer & Director | Health Care | Pharmaceuticals | Cambridge | MA | http://www.biogen.com |
| 236 | Alcoa | $13,403 | 14,000 | Roy C. Harvey | President, Chief Executive Officer & Director | Materials | Metals | Pittsburgh | PA | http://www.alcoa.com |
| 237 | Anadarko Petroleum | $13,382 | 4,700 | R. A. Walker | Chairman & Chief Executive Officer | Energy | Mining, Crude-Oil Production | The Woodlands | TX | http://www.anadarko.com |
| 238 | Dominion Energy | $13,366 | 16,100 | Thomas F. Farrell II | Chairman, President & Chief Executive Officer | Energy | Utilities: Gas and Electric | Richmond | VA | http://www.dominionenergy.com |
| 239 | ADP | $13,325.80 | 57,000 | Carlos A. Rodriguez | President, Chief Executive Officer & Director | Business Services | Diversified Outsourcing Services | Roseland | NJ | http://www.adp.com |
| 240 | salesforce.com | $13,282 | 35,000 | Marc R. Benioff/Keith G. Block | Chairman & Co-Chief Executive Officer | Technology | Computer Software | San Francisco | CA | http://www.salesforce.com |
| 241 | L Brands | $13,236.90 | 57,200 | Leslie H. Wexner | Chairman, President & Chief Executive Officer | Retailing | Specialty Retailers: Apparel | Columbus | OH | http://www.lb.com |
| 242 | Henry Schein | $13,202 | 22,600 | Stanley M. Bergman | Chairman & Chief Executive Officer | Health Care | Wholesalers: Health Care | Melville | NY | http://www.henryschein.com |
| 243 | Newell Brands | $13,033.10 | 37,000 | Michael B. Polk | President, Chief Executive Officer & Director | Household Products | Home Equipment, Furnishings | Hoboken | NJ | http://www.newellbrands.com |
| 244 | Guardian Life Ins. Co. of America | $13,014.90 | 9,556 | Deanna M. Mulligan | President, Chief Executive Officer & Director | Financials | Insurance: Life, Health (Mutual) | New York | NY | http://www.guardianlife.com |
| 245 | BJ's Wholesale Club | $13,007.30 | 26,383 | Christopher J. Baldwin | Chairman, President & Chief Executive Officer | Retailing | General Merchandisers | Westborough | MA | http://www.bjs.com |
| 246 | BB&T Corp. | $12,996 | 35,852 | Kelly S. King | Chairman & Chief Executive Officer | Financials | Commercial Banks | Winston-Salem | NC | http://www.bbt.com |
| 247 | State Street Corp. | $12,973 | 40,142 | Ronald P. O'Hanley | President, Chief Executive Officer & Director | Financials | Commercial Banks | Boston | MA | http://www.statestreet.com |
| 248 | Viacom | $12,943 | 10,880 | Robert M. Bakish | President, Chief Executive Officer & Director | Media | Entertainment | New York | NY | http://www.viacom.com |
| 249 | Ameriprise Financial | $12,924 | 14,062 | James M. Cracchiolo | Chairman & Chief Executive Officer | Financials | Diversified Financials | Minneapolis | MN | http://www.ameriprise.com |
| 250 | Core-Mark Holding | $12,903.90 | 8,087 | Scott E. McPherson | President, Chief Executive Officer & Director | Wholesalers | Wholesalers: Food and Grocery | South San Francisco | CA | http://www.core-mark.com |
| Download the Fortune 1000 list to see # 251 to #1000 |   |   |   |   |   |   |   |   |   |   |