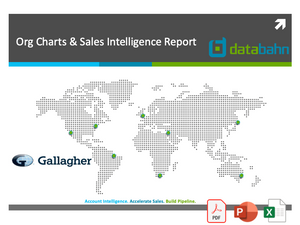 databahn
Arthur J. Gallagher Org Charts & Contact Info
Sale price Price $ 1,250.00 Regular price
Arthur J. Gallagher Org Charts & Contact Info

Published in Q2 2023

Arthur J. Gallagher & Co.
2850 Golf Road
Rolling Meadows, IL 60008-4050
United States
Main Phone: (630) 773-3800
Website: https://www.ajg.com
Industry Sector: Financial Services - Insurance Brokers
Full Time Employees: 48,441
CEO: Patrick Gallagher Jr., Chairman, President & CEO


The Gallagher Org Charts & Contact Info Report was researched and developed with the IT sales executive and the IT marketer in mind. Our goal is simple; eliminate the costly research time and help you identify new sales revenue opportunities.
Top 10 reasons to buy the Gallagher Org Charts & Contact Info Report:

Create a better and more informed RFP Response proposal
Brief your C-level executives before a sales call
Eliminate the time it takes to build a strategic account plan on

Gallagher

Develop more effective

Gallagher

 

account based marketing (ABM) program
Discover sales opportunities you're not aware of in 

Gallagher

Understand the competitive landscape in the

Gallagher

 

account
Ramp up new sales reps faster in new accounts
Need

Gallagher

 

accurate contact information & org charts
Insights into

Gallagher

 

IT projects & initiatives
Expand footprint in the

Gallagher

 account
Some of the insights & detailed information you can expect to see in the Gallagher report:
Accurate Contact Information
Detailed Organization Charts on their IT, HR, and Finance lines of business, along with the Corporate Executives, and the Board of Directors.

Please allow 5-7 business days for customization and delivery.