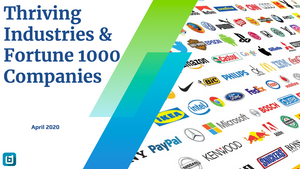 databahn
2019 Fortune 1000 List | Excel spreadsheet list download
Sale price Price $ 19.50 Regular price
2019 Fortune 1000 list is available to download in an Excel spreadsheet
July 8, 2020
The list is highlighted with Fortune 1000 companies thriving during these challenging times.
As VPs of sales and sales reps alike are scrambling to salvage the wreckage of their sales pipelines from the past few weeks, we have been asked for more sales intelligence on companies in industries like food and grocery, online delivery, unified communications, alcohol, and pharmaceuticals.
We are seeing our clients pivot to industries and companies that are still buying in these challenging times.
We highlighted this Fortune 1000 list in attempt to help those who are scrambling and panicking to try to pivot and re-focus on companies that are still thriving. Please download a free copy of this Fortune 1000 list to see all of the companies that are still going strong.

Please add it to your Cart and go through the Checkout process. 
2019 Fortune 1000 list
| | | | | | | | | | | |
| --- | --- | --- | --- | --- | --- | --- | --- | --- | --- | --- |
| 2019 FORTUNE RANK | COMPANY NAME | ANNUAL REVENUE ($M) | EMPLOYEES | CEO | CEO TITLE | SECTOR | INDUSTRY | HQ CITY | HQ STATE | WEBSITE |
| 1 | Walmart | $514,405 | 2,200,000 | C. Douglas McMillon | President, Chief Executive Officer & Director | Retailing | General Merchandisers | Bentonville | AR | http://www.walmart.com |
| 2 | Exxon Mobil | $290,212 | 71,000 | Darren W. Woods | Chairman & Chief Executive Officer | Energy | Petroleum Refining | Irving | TX | http://www.exxonmobil.com |
| 3 | Apple | $265,595 | 132,000 | Timothy D. Cook | President, Chief Executive Officer & Director | Technology | Computers, Office Equipment | Cupertino | CA | http://www.apple.com |
| 4 | Berkshire Hathaway | $247,837 | 389,000 | Warren E. Buffett | Chairman, President & Chief Executive Officer | Financials | Insurance: Property and Casualty (Stock) | Omaha | NE | http://www.berkshirehathaway.com |
| 5 | Amazon.com | $232,887 | 647,500 | Jeffrey P. Bezos | Chairman, President & Chief Executive Officer | Retailing | Internet Services and Retailing | Seattle | WA | http://www.amazon.com |
| 6 | UnitedHealth Group | $226,247 | 300,000 | David S. Wichmann | President, Chief Executive Officer & Director | Health Care | Health Care: Insurance and Managed Care | Minnetonka | MN | http://www.unitedhealthgroup.com |
| 7 | McKesson | $208,357 | 68,000 | Brian S. Tyler | President, Chief Executive Officer & Director | Health Care | Wholesalers: Health Care | Irving | TX | http://www.mckesson.com |
| 8 | CVS Health | $194,579 | 295,000 | Larry J. Merlo | President, Chief Executive Officer & Director | Health Care | Health Care: Pharmacy and Other Services | Woonsocket | RI | http://www.cvshealth.com |
| 9 | AT&T | $170,756 | 268,220 | Randall L. Stephenson | Chairman, President & Chief Executive Officer | Telecommunications | Telecommunications | Dallas | TX | http://www.att.com |
| 10 | AmerisourceBergen | $167,939.60 | 20,500 | Steven H. Collis | Chairman, President & Chief Executive Officer | Health Care | Wholesalers: Health Care | Chesterbrook | PA | http://www.amerisourcebergen.com |
| 11 | Chevron | $166,339 | 48,600 | Michael K. Wirth | Chairman & Chief Executive Officer | Energy | Petroleum Refining | San Ramon | CA | http://www.chevron.com |
| 12 | Ford Motor | $160,338 | 199,000 | James P. Hackett | President, Chief Executive Officer & Director | Motor Vehicles & Parts | Motor Vehicles and Parts | Dearborn | MI | http://www.corporate.ford.com |
| 13 | General Motors | $147,049 | 173,000 | Mary T. Barra | Chairman & Chief Executive Officer | Motor Vehicles & Parts | Motor Vehicles and Parts | Detroit | MI | http://www.gm.com |
| 14 | Costco Wholesale | $141,576 | 194,000 | W. Craig Jelinek | President, Chief Executive Officer & Director | Retailing | General Merchandisers | Issaquah | WA | http://www.costco.com |
| 15 | Alphabet | $136,819 | 98,771 | Larry Page | Chief Executive Officer & Director | Technology | Internet Services and Retailing | Mountain View | CA | http://www.abc.xyz |
| 16 | Cardinal Health | $136,809 | 50,200 | Michael C. Kaufmann | Chairman & Chief Executive Officer | Health Care | Wholesalers: Health Care | Dublin | OH | http://www.cardinalhealth.com |
| 17 | Walgreens Boots Alliance | $131,537 | 299,000 | Stefano Pessina | Chairman & Chief Executive Officer | Food & Drug Stores | Food and Drug Stores | Deerfield | IL | http://www.walgreensbootsalliance.com |
| 18 | JPMorgan Chase | $131,412 | 256,105 | James Dimon | Chairman & Chief Executive Officer | Financials | Commercial Banks | New York | NY | http://www.jpmorganchase.com |
| 19 | Verizon Communications | $130,863 | 144,500 | Hans E. Vestberg | Chairman & Chief Executive Officer | Telecommunications | Telecommunications | New York | NY | http://www.verizon.com |
| 20 | Kroger | $121,162 | 453,000 | W. Rodney McMullen | Chairman & Chief Executive Officer | Food & Drug Stores | Food and Drug Stores | Cincinnati | OH | http://www.thekrogerco.com |
| 21 | General Electric | $120,268 | 283,000 | H. Lawrence Culp Jr. | Chairman & Chief Executive Officer | Industrials | Industrial Machinery | Boston | MA | http://www.ge.com |
| 22 | Fannie Mae | $120,101 | 7,400 | Hugh R. Frater | Chief Executive Officer & Director | Financials | Diversified Financials | Washington | DC | http://www.fanniemae.com |
| 23 | Phillips 66 | $114,217 | 14,200 | Greg C. Garland | Chairman & Chief Executive Officer | Energy | Petroleum Refining | Houston | TX | http://www.phillips66.com |
| 24 | Valero Energy | $111,407 | 10,261 | Joseph W. Gorder | Chairman, President & Chief Executive Officer | Energy | Petroleum Refining | San Antonio | TX | http://www.valero.com |
| 25 | Bank of America | $110,584 | 204,489 | Brian T. Moynihan | Chairman & Chief Executive Officer | Financials | Commercial Banks | Charlotte | NC | http://www.bankofamerica.com |
| 26 | Microsoft | $110,360 | 131,000 | Satya Nadella | Chief Executive Officer & Director | Technology | Computer Software | Redmond | WA | http://www.microsoft.com |
| 27 | Home Depot | $108,203 | 413,000 | Craig A. Menear | Chairman, President & Chief Executive Officer | Retailing | Specialty Retailers: Other | Atlanta | GA | http://www.homedepot.com |
| 28 | Boeing | $101,127 | 153,000 | Dennis A. Muilenburg | Chairman, President & Chief Executive Officer | Aerospace & Defense | Aerospace and Defense | Chicago | IL | http://www.boeing.com |
| 29 | Wells Fargo | $101,060 | 258,700 | C. Allen Parker | Interim Chief Executive Officer & Director | Financials | Commercial Banks | San Francisco | CA | http://www.wellsfargo.com |
| 30 | Citigroup | $97,120 | 204,000 | Michael L. Corbat | Chairman & Chief Executive Officer | Financials | Commercial Banks | New York | NY | http://www.citigroup.com |
| 31 | Marathon Petroleum | $97,102 | 60,350 | Gary R. Heminger | Chairman & Chief Executive Officer | Energy | Petroleum Refining | Findlay | OH | http://www.marathonpetroleum.com |
| 32 | Comcast | $94,507 | 184,000 | Brian L. Roberts | Chairman, President & Chief Executive Officer | Telecommunications | Telecommunications | Philadelphia | PA | http://www.comcastcorporation.com |
| 33 | Anthem | $92,105 | 63,900 | Gail K. Boudreaux | President, Chief Executive Officer & Director | Health Care | Health Care: Insurance and Managed Care | Indianapolis | IN | http://www.antheminc.com |
| 34 | Dell Technologies | $90,621 | 157,000 | Michael S. Dell | Chairman & Chief Executive Officer | Technology | Computers, Office Equipment | Round Rock | TX | http://www.delltechnologies.com |
| 35 | DowDuPont | $85,977 | 98,000 | Edward D. Breen | Chairman & Chief Executive Officer | Chemicals | Chemicals | Wilmington | DE | http://www.dow-dupont.com |
| 36 | State Farm Insurance | $81,732.20 | 56,788 | Michael L. Tipsord | Chairman, President & Chief Executive Officer | Financials | Insurance: Property and Casualty (Mutual) | Bloomington | IL | http://www.statefarm.com |
| 37 | Johnson & Johnson | $81,581 | 135,100 | Alex Gorsky | Chairman & Chief Executive Officer | Health Care | Pharmaceuticals | New Brunswick | NJ | http://www.jnj.com |
| 38 | IBM | $79,591 | 381,100 | Virginia M. Rometty | Chairman, President & Chief Executive Officer | Technology | Information Technology Services | Armonk | NY | http://www.ibm.com |
| 39 | Target | $75,356 | 360,000 | Brian C. Cornell | Chairman & Chief Executive Officer | Retailing | General Merchandisers | Minneapolis | MN | http://www.target.com |
| 40 | Freddie Mac | $73,598 | 6,621 | Donald H. Layton | Chief Executive Officer & Director | Financials | Diversified Financials | McLean | VA | http://www.freddiemac.com |
| 41 | United Parcel Service | $71,861 | 364,575 | David P. Abney | Chairman & Chief Executive Officer | Transportation | Mail, Package, and Freight Delivery | Atlanta | GA | http://www.ups.com |
| 42 | Lowe's | $71,309 | 245,000 | Marvin R. Ellison | President, Chief Executive Officer & Director | Retailing | Specialty Retailers: Other | Mooresville | NC | http://www.lowes.com |
| 43 | Intel | $70,848 | 107,400 | Robert H. Swan | Chief Executive Officer & Director | Technology | Semiconductors and Other Electronic Components | Santa Clara | CA | http://www.intel.com |
| 44 | MetLife | $67,941 | 48,000 | Michel A. Khalaf | Chief Executive Officer & Director | Financials | Insurance: Life, Health (stock) | New York | NY | http://www.metlife.com |
| 45 | Procter & Gamble | $66,832 | 92,000 | David S. Taylor | Chairman, President & Chief Executive Officer | Household Products | Household and Personal Products | Cincinnati | OH | http://www.pg.com |
| 46 | United Technologies | $66,501 | 240,200 | Gregory J. Hayes | Chairman, President & Chief Executive Officer | Aerospace & Defense | Aerospace and Defense | Farmington | CT | http://www.utc.com |
| 47 | FedEx | $65,450 | 359,000 | Frederick W. Smith | Chairman & Chief Executive Officer | Transportation | Mail, Package, and Freight Delivery | Memphis | TN | http://www.fedex.com |
| 48 | PepsiCo | $64,661 | 267,000 | Ramon L. Laguarta | Chairman & Chief Executive Officer | Food, Beverages & Tobacco | Food Consumer Products | Purchase | NY | http://www.pepsico.com |
| 49 | Archer Daniels Midland | $64,341 | 31,600 | Juan R. Luciano | Chairman, President & Chief Executive Officer | Food, Beverages & Tobacco | Food Production | Chicago | IL | http://www.adm.com |
| 50 | Prudential Financial | $62,992 | 50,492 | Charles F. Lowrey | Chairman, President & Chief Executive Officer | Financials | Insurance: Life, Health (stock) | Newark | NJ | http://www.prudential.com |
| 51 | Centene | $60,116 | 47,300 | Michael F. Neidorff | Chairman & Chief Executive Officer | Health Care | Health Care: Insurance and Managed Care | St. Louis | MO | http://www.centene.com |
| 52 | Albertsons | $59,924.60 | 275,000 | Vivek Sankaran | President, Chief Executive Officer & Director | Food & Drug Stores | Food and Drug Stores | Boise | ID | http://www.albertsonscompanies.com |
| 53 | Walt Disney | $59,434 | 201,000 | Robert A. Iger | Chairman & Chief Executive Officer | Media | Entertainment | Burbank | CA | http://thewaltdisneycompany.com |
| 54 | Sysco | $58,727.30 | 67,000 | Thomas L. Bené | Chairman, President & Chief Executive Officer | Wholesalers | Wholesalers: Food and Grocery | Houston | TX | http://www.sysco.com |
| 55 | HP | $58,472 | 55,000 | Dion J. Weisler | President, Chief Executive Officer & Director | Technology | Computers, Office Equipment | Palo Alto | CA | http://www.hp.com |
| 56 | Humana | $56,912 | 41,600 | Bruce D. Broussard | President, Chief Executive Officer & Director | Health Care | Health Care: Insurance and Managed Care | Louisville | KY | http://www.humana.com |
| 57 | Facebook | $55,838 | 35,587 | Mark Zuckerberg | Chairman & Chief Executive Officer | Technology | Internet Services and Retailing | Menlo Park | CA | http://www.facebook.com |
| 58 | Caterpillar | $54,722 | 104,000 | D. James Umpleby III | Chairman & Chief Executive Officer | Industrials | Construction and Farm Machinery | Deerfield | IL | http://www.caterpillar.com |
| 59 | Energy Transfer | $54,436 | 11,768 | Kelcy L. Warren | Chairman & Chief Executive Officer | Energy | Pipelines | Dallas | TX | http://www.energytransfer.com |
| 60 | Lockheed Martin | $53,762 | 105,000 | Marillyn A. Hewson | Chairman, President & Chief Executive Officer | Aerospace & Defense | Aerospace and Defense | Bethesda | MD | http://www.lockheedmartin.com |
| 61 | Pfizer | $53,647 | 92,400 | Albert Bourla | Chief Executive Officer & Director | Health Care | Pharmaceuticals | New York | NY | http://www.pfizer.com |
| 62 | Goldman Sachs Group | $52,528 | 36,600 | David M. Solomon | Chairman & Chief Executive Officer | Financials | Commercial Banks | New York | NY | http://www.goldmansachs.com |
| 63 | Morgan Stanley | $50,193 | 60,348 | James P. Gorman | Chairman & Chief Executive Officer | Financials | Commercial Banks | New York | NY | http://www.morganstanley.com |
| 64 | Cisco Systems | $49,330 | 74,200 | Charles H. Robbins | Chairman & Chief Executive Officer | Technology | Network and Other Communications Equipment | San Jose | CA | http://www.cisco.com |
| 65 | Cigna | $48,650 | 73,800 | David M. Cordani | President, Chief Executive Officer & Director | Health Care | Health Care: Insurance and Managed Care | Bloomfield | CT | http://www.cigna.com |
| 66 | AIG | $47,389 | 49,600 | Brian Duperreault | President, Chief Executive Officer & Director | Financials | Insurance: Property and Casualty (Stock) | New York | NY | http://www.aig.com |
| 67 | HCA Healthcare | $46,677 | 229,000 | Samuel N. Hazen | Chief Executive Officer & Director | Health Care | Health Care: Medical Facilities | Nashville | TN | http://www.hcahealthcare.com |
| 68 | American Airlines Group | $44,541 | 128,900 | W. Douglas Parker | Chairman & Chief Executive Officer | Transportation | Airlines | Fort Worth | TX | http://www.aa.com |
| 69 | Delta Air Lines | $44,438 | 88,680 | Edward H. Bastian | Chairman & Chief Executive Officer | Transportation | Airlines | Atlanta | GA | http://www.delta.com |
| 70 | Charter Communications | $43,634 | 98,000 | Thomas M. Rutledge | Chairman & Chief Executive Officer | Telecommunications | Telecommunications | Stamford | CT | http://www.charter.com |
| 71 | New York Life Insurance | $43,425.30 | 11,388 | Theodore A. Mathas | Chairman & Chief Executive Officer | Financials | Insurance: Life, Health (Mutual) | New York | NY | http://www.newyorklife.com |
| 72 | American Express | $43,281 | 59,000 | Stephen J. Squeri | Chairman & Chief Executive Officer | Financials | Diversified Financials | New York | NY | http://www.americanexpress.com |
| 73 | Nationwide | $43,270 | 30,472 | Stephen S. Rasmussen | Chief Executive Officer & Director | Financials | Insurance: Property and Casualty (Mutual) | Columbus | OH | http://www.nationwide.com |
| 74 | Best Buy | $42,879 | 125,000 | Corie Barry | Chief Executive Officer & Director | Retailing | Specialty Retailers: Other | Richfield | MN | http://www.bestbuy.com |
| 75 | Liberty Mutual Insurance Group | $42,685 | 50,000 | David H. Long | Chairman, President & Chief Executive Officer | Financials | Insurance: Property and Casualty (Stock) | Boston | MA | http://www.libertymutual.com |
| 76 | Merck | $42,294 | 69,000 | Kenneth C. Frazier | Chairman, President & Chief Executive Officer | Health Care | Pharmaceuticals | Kenilworth | NJ | http://www.merck.com |
| 77 | Honeywell International | $41,802 | 114,000 | Darius E. Adamczyk | Chairman, President & Chief Executive Officer | Industrials | Electronics, Electrical Equip. | Morris Plains | NJ | http://www.honeywell.com |
| 78 | United Continental Holdings | $41,303 | 92,000 | Oscar Munoz | Chief Executive Officer & Director | Transportation | Airlines | Chicago | IL | http://www.united.com |
| 79 | TIAA | $41,052.10 | 17,643 | Roger W. Ferguson Jr. | Chief Executive Officer & Director | Financials | Insurance: Life, Health (Mutual) | New York | NY | http://www.tiaa.org |
| 80 | Tyson Foods | $40,052 | 121,000 | Noel White | President, Chief Executive Officer & Director | Food, Beverages & Tobacco | Food Production | Springdale | AR | http://www.tysonfoods.com |
| 81 | Oracle | $39,831 | 137,000 | Safra A. Catz/Mark V. Hurd | Co-Chief Executive Officer & Director | Technology | Computer Software | Redwood City | CA | http://www.oracle.com |
| 82 | Allstate | $39,815 | 45,420 | Thomas J. Wilson | Chairman, President & Chief Executive Officer | Financials | Insurance: Property and Casualty (Stock) | Northbrook | IL | http://www.allstate.com |
| 83 | World Fuel Services | $39,750.30 | 5,000 | Michael J. Kasbar | Chairman, President & Chief Executive Officer | Energy | Energy | Miami | FL | http://www.wfscorp.com |
| 84 | Massachusetts Mutual Life Insurance | $39,267.20 | 9,844 | Roger W. Crandall | Chairman, President & Chief Executive Officer | Financials | Insurance: Life, Health (Mutual) | Springfield | MA | http://www.massmutual.com |
| 85 | TJX | $38,972.90 | 270,000 | Ernie L. Herrman | Chairman & Chief Executive Officer | Retailing | Specialty Retailers: Apparel | Framingham | MA | http://www.tjx.com |
| 86 | ConocoPhillips | $38,727 | 10,800 | Ryan M. Lance | Chairman & Chief Executive Officer | Energy | Mining, Crude-Oil Production | Houston | TX | http://www.conocophillips.com |
| 87 | Deere | $37,357.70 | 74,413 | Samuel R. Allen | Chairman & Chief Executive Officer | Industrials | Construction and Farm Machinery | Moline | IL | http://www.johndeere.com |
| 88 | Tech Data | $37,239 | 14,000 | Richard T. Hume | Chief Executive Officer & Director | Wholesalers | Wholesalers: Electronics and Office Equipment | Clearwater | FL | http://www.techdata.com |
| 89 | Enterprise Products Partners | $36,534.20 | 7,000 | A. James Teague | Chief Executive Officer & Director | Energy | Pipelines | Houston | TX | http://www.enterpriseproducts.com |
| 90 | Nike | $36,397 | 73,100 | Mark G. Parker | Chairman, President & Chief Executive Officer | Apparel | Apparel | Beaverton | OR | http://www.nike.com |
| 91 | Publix Super Markets | $36,395.70 | 202,000 | Randall T. Jones Sr. | President, Chief Executive Officer & Director | Food & Drug Stores | Food and Drug Stores | Lakeland | FL | http://www.publix.com |
| 92 | General Dynamics | $36,193 | 105,600 | Phebe N. Novakovic | Chairman & Chief Executive Officer | Aerospace & Defense | Aerospace and Defense | Falls Church | VA | http://www.generaldynamics.com |
| 93 | Exelon | $35,985 | 33,383 | Christopher M. Crane | President, Chief Executive Officer & Director | Energy | Utilities: Gas and Electric | Chicago | IL | http://www.exeloncorp.com |
| 94 | Plains GP Holdings | $34,055 | 4,900 | Wilfred C.W. Chiang | Chief Executive Officer & Director | Energy | Pipelines | Houston | TX | http://www.plainsallamerican.com |
| 95 | 3M | $32,765 | 93,516 | Michael F. Roman | Chief Executive Officer & Director | Industrials | Miscellaneous | St. Paul | MN | http://www.3m.com |
| 96 | AbbVie | $32,753 | 30,000 | Richard A. Gonzalez | Chairman & Chief Executive Officer | Health Care | Pharmaceuticals | North Chicago | IL | http://www.abbvie.com |
| 97 | CHS | $32,683.30 | 10,495 | Jay D. Debertin | President, Chief Executive Officer & Director | Food, Beverages & Tobacco | Food Production | Inver Grove Heights | MN | http://www.chsinc.com |
| 98 | Capital One Financial | $32,377 | 47,600 | Richard D. Fairbank | Chairman, President & Chief Executive Officer | Financials | Commercial Banks | McLean | VA | http://www.capitalone.com |
| 99 | Progressive | $31,979 | 37,346 | Susan Patricia Griffith | President, Chief Executive Officer & Director | Financials | Insurance: Property and Casualty (Stock) | Mayfield Village | OH | http://www.progressive.com |
| 100 | Coca-Cola | $31,856 | 62,600 | James R. Quincey | Chief Executive Officer & Director | Food, Beverages & Tobacco | Beverages | Atlanta | GA | http://www.coca-colacompany.com |
| 101 | USAA | $31,367.80 | 33,689 | Stuart Parker | President, Chief Executive Officer & Director | Financials | Insurance: Property and Casualty (Stock) | San Antonio | TX | http://www.usaa.com |
| 102 | Hewlett Packard Enterprise | $30,852 | 60,000 | Antonio Neri | President, Chief Executive Officer & Director | Technology | Computers, Office Equipment | Palo Alto | CA | http://www.hpe.com |
| 103 | Abbott Laboratories | $30,578 | 103,000 | Miles D. White | Chairman & Chief Executive Officer | Health Care | Medical Products and Equipment | Abbott Park | IL | http://www.abbott.com |
| 104 | Twenty-First Century Fox | $30,400 | 22,400 | James R. Murdoch | Chief Executive Officer & Director | Media | Entertainment | New York | NY | http://www.thewaltdisneycompany.com |
| 105 | Micron Technology | $30,391 | 36,000 | Sanjay Mehrotra | President, Chief Executive Officer & Director | Technology | Semiconductors and Other Electronic Components | Boise | ID | http://www.micron.com |
| 106 | Travelers | $30,282 | 30,400 | Alan D. Schnitzer | Chairman & Chief Executive Officer | Financials | Insurance: Property and Casualty (Stock) | New York | NY | http://www.travelers.com |
| 107 | Rite Aid | $30,215.40 | 48,410 | John T. Standley | Chief Executive Officer & Director | Food & Drug Stores | Food and Drug Stores | Camp Hill | PA | http://www.riteaid.com |
| 108 | Northrop Grumman | $30,095 | 85,000 | Kathy J. Warden | President, Chief Executive Officer & Director | Aerospace & Defense | Aerospace and Defense | Falls Church | VA | http://www.northropgrumman.com |
| 109 | Arrow Electronics | $29,676.80 | 20,100 | Michael J. Long | Chairman, President & Chief Executive Officer | Wholesalers | Wholesalers: Electronics and Office Equipment | Centennial | CO | http://www.arrow.com |
| 110 | Philip Morris International | $29,625 | 77,400 | André Calantzopoulos | Chief Executive Officer & Director | Food, Beverages & Tobacco | Tobacco | New York | NY | http://www.pmi.com |
| 111 | Northwestern Mutual | $29,124 | 5,870 | John E. Schlifske | Chairman, President & Chief Executive Officer | Financials | Insurance: Life, Health (Mutual) | Milwaukee | WI | http://www.northwesternmutual.com |
| 112 | INTL FCStone | $27,622.70 | 1,701 | Sean M. O'Connor | President, Chief Executive Officer & Director | Financials | Diversified Financials | New York | NY | http://www.intlfcstone.com |
| 113 | PBF Energy | $27,186.10 | 3,266 | Thomas J. Nimbley | Chairman & Chief Executive Officer | Energy | Petroleum Refining | Parsippany | NJ | http://www.pbfenergy.com |
| 114 | Raytheon | $27,058 | 67,000 | Thomas A. Kennedy | Chairman & Chief Executive Officer | Aerospace & Defense | Aerospace and Defense | Waltham | MA | http://www.raytheon.com |
| 115 | Kraft Heinz | $26,259 | 39,000 | Bernardo Hees | Chief Executive Officer & Director | Food, Beverages & Tobacco | Food Consumer Products | Pittsburgh | PA | http://www.kraftheinzcompany.com |
| 116 | Mondelez International | $25,938 | 80,000 | Dirk Van de Put | Chairman & Chief Executive Officer | Food, Beverages & Tobacco | Food Consumer Products | Deerfield | IL | http://www.mondelezinternational.com |
| 117 | US Bancorp | $25,775 | 75,772 | Andrew J. Cecere | President, Chief Executive Officer & Director | Financials | Commercial Banks | Minneapolis | MN | http://www.usbank.com |
| 118 | Macy's | $25,739 | 130,000 | Jeffrey Gennette | Chairman & Chief Executive Officer | Retailing | General Merchandisers | Cincinnati | OH | http://www.macysinc.com |
| 119 | Dollar General | $25,625 | 135,000 | Todd J. Vasos | Chief Executive Officer & Director | Retailing | Specialty Retailers: Other | Goodlettsville | TN | http://www.dollargeneral.com |
| 120 | Nucor | $25,067.30 | 26,300 | John J. Ferriola | Chairman, President & Chief Executive Officer | Materials | Metals | Charlotte | NC | http://www.nucor.com |
| 121 | Starbucks | $24,719.50 | 291,000 | Kevin R. Johnson | President, Chief Executive Officer & Director | Hotels, Restaurants & Leisure | Food Services | Seattle | WA | http://www.starbucks.com |
| 122 | DXC Technology | $24,556 | 150,000 | J. Michael Lawrie | Chairman, President & Chief Executive Officer | Technology | Information Technology Services | Tysons | VA | http://www.dxc.technology |
| 123 | Eli Lilly | $24,555.70 | 38,680 | David A. Ricks | Chairman, President & Chief Executive Officer | Health Care | Pharmaceuticals | Indianapolis | IN | http://www.lilly.com |
| 124 | Thermo Fisher Scientific | $24,358 | 69,200 | Marc N. Casper | President, Chief Executive Officer & Director | Technology | Scientific,Photographic and Control Equipment | Waltham | MA | http://www.thermofisher.com |
| 125 | US Foods Holding | $24,175 | 24,900 | Pietro Satriano | Chairman & Chief Executive Officer | Wholesalers | Wholesalers: Food and Grocery | Rosemont | IL | http://www.usfoods.com |
| 126 | Duke Energy | $24,116 | 30,083 | Lynn J. Good | Chairman, President & Chief Executive Officer | Energy | Utilities: Gas and Electric | Charlotte | NC | http://www.duke-energy.com |
| 127 | Halliburton | $23,995 | 60,000 | Jeffrey A. Miller | President, Chief Executive Officer & Director | Energy | Oil and Gas Equipment, Services | Houston | TX | http://www.halliburton.com |
| 128 | Cummins | $23,771 | 62,610 | N. Thomas Linebarger | Chairman & Chief Executive Officer | Industrials | Industrial Machinery | Columbus | IN | http://www.cummins.com |
| 129 | Amgen | $23,747 | 21,500 | Robert A. Bradway | Chairman, President & Chief Executive Officer | Health Care | Pharmaceuticals | Thousand Oaks | CA | http://www.amgen.com |
| 130 | Paccar | $23,495.70 | 28,000 | Ronald E. Armstrong | Chief Executive Officer & Director | Industrials | Construction and Farm Machinery | Bellevue | WA | http://www.paccar.com |
| 131 | Southern | $23,495 | 30,286 | Thomas A. Fanning | Chairman, President & Chief Executive Officer | Energy | Utilities: Gas and Electric | Atlanta | GA | http://www.southerncompany.com |
| 132 | CenturyLink | $23,443 | 45,000 | Jeffrey K. Storey | President, Chief Executive Officer & Director | Telecommunications | Telecommunications | Monroe | LA | http://www.centurylink.com |
| 133 | International Paper | $23,306 | 53,000 | Mark S. Sutton | Chairman & Chief Executive Officer | Materials | Packaging, Containers | Memphis | TN | http://www.internationalpaper.com |
| 134 | Union Pacific | $22,832 | 41,967 | Lance M. Fritz | Chairman, President & Chief Executive Officer | Transportation | Railroads | Omaha | NE | http://www.up.com |
| 135 | Dollar Tree | $22,823.30 | 119,650 | Gary M. Philbin | President, Chief Executive Officer & Director | Retailing | Specialty Retailers: Other | Chesapeake | VA | http://www.dollartree.com |
| 136 | Penske Automotive Group | $22,785.10 | 27,000 | Roger S. Penske | Chairman & Chief Executive Officer | Retailing | Automotive Retailing, Services | Bloomfield Hills | MI | http://www.penskeautomotive.com |
| 137 | Qualcomm | $22,732 | 35,400 | Steven M. Mollenkopf | Chief Executive Officer & Director | Technology | Semiconductors and Other Electronic Components | San Diego | CA | http://www.qualcomm.com |
| 138 | Bristol-Myers Squibb | $22,561 | 23,300 | Giovanni Caforio | Chairman & Chief Executive Officer | Health Care | Pharmaceuticals | New York | NY | http://www.bms.com |
| 139 | Gilead Sciences | $22,127 | 11,000 | Daniel O'Day | Chairman & Chief Executive Officer | Health Care | Pharmaceuticals | Foster City | CA | http://www.gilead.com |
| 140 | Jabil | $22,095.40 | 199,000 | Mark T. Mondello | Chief Executive Officer & Director | Technology | Semiconductors and Other Electronic Components | St. Petersburg | FL | http://www.jabil.com |
| 141 | ManpowerGroup | $21,991.20 | 30,000 | Jonas Prising | Chairman & Chief Executive Officer | Business Services | Temporary Help | Milwaukee | WI | http://www.manpowergroup.com |
| 142 | Southwest Airlines | $21,965 | 58,803 | Gary C. Kelly | Chairman & Chief Executive Officer | Transportation | Airlines | Dallas | TX | http://www.southwest.com |
| 143 | Aflac | $21,758 | 11,390 | Daniel P. Amos | Chairman, President & Chief Executive Officer | Financials | Insurance: Life, Health (stock) | Columbus | GA | http://www.aflac.com |
| 144 | Tesla | $21,461.30 | 48,817 | Elon Musk | Chief Executive Officer & Director | Motor Vehicles & Parts | Motor Vehicles and Parts | Palo Alto | CA | http://www.tesla.com |
| 145 | AutoNation | $21,412.80 | 26,000 | Carl C. Liebert III | President, Chief Executive Officer & Director | Retailing | Automotive Retailing, Services | Fort Lauderdale | FL | http://www.autonation.com |
| 146 | CBRE Group | $21,340.10 | 90,000 | Robert E. Sulentic | President, Chief Executive Officer & Director | Financials | Real estate | Los Angeles | CA | http://www.cbre.com |
| 147 | Lear | $21,148.50 | 169,000 | Raymond E. Scott | President, Chief Executive Officer & Director | Motor Vehicles & Parts | Motor Vehicles and Parts | Southfield | MI | http://www.lear.com |
| 148 | Whirlpool | $21,037 | 92,000 | Marc R. Bitzer | Chairman, President & Chief Executive Officer | Industrials | Electronics, Electrical Equip. | Benton Harbor | MI | http://www.whirlpoolcorp.com |
| 149 | McDonald's | $21,025.20 | 210,000 | Stephen J. Easterbrook | President, Chief Executive Officer & Director | Hotels, Restaurants & Leisure | Food Services | Chicago | IL | http://www.aboutmcdonalds.com |
| 150 | Broadcom | $20,848 | 15,000 | Hock E. Tan | Chairman, President & Chief Executive Officer | Technology | Semiconductors and Other Electronic Components | San Jose | CA | http://www.broadcom.com |
| 151 | Marriott International | $20,758 | 176,000 | Arne M. Sorenson | President, Chief Executive Officer & Director | Hotels, Restaurants & Leisure | Hotels, Casinos, Resorts | Bethesda | MD | http://www.marriott.com |
| 152 | Western Digital | $20,647 | 71,600 | Stephen D. Milligan | Chief Executive Officer & Director | Technology | Computers, Office Equipment | San Jose | CA | http://www.wdc.com |
| 153 | Visa | $20,609 | 17,000 | Alfred F. Kelly Jr. | Chief Executive Officer & Director | Business Services | Financial Data Services | San Francisco | CA | http://www.visa.com |
| 154 | Lennar | $20,571.60 | 11,626 | Richard Beckwitt | Chief Executive Officer & Director | Engineering & Construction | Homebuilders | Miami | FL | http://www.lennar.com |
| 155 | WellCare Health Plans | $20,414.10 | 12,000 | Kenneth A. Burdick | Chief Executive Officer & Director | Health Care | Health Care: Insurance and Managed Care | Tampa | FL | http://www.wellcare.com |
| 156 | Kohl's | $20,229 | 81,500 | Michelle D. Gass | Chief Executive Officer & Director | Retailing | General Merchandisers | Menomonee Falls | WI | http://www.kohls.com |
| 157 | AECOM | $20,155.50 | 87,000 | Michael S. Burke | Chairman & Chief Executive Officer | Engineering & Construction | Engineering, Construction | Los Angeles | CA | http://www.aecom.com |
| 158 | Synnex | $20,053.80 | 231,600 | Dennis Polk | President, Chief Executive Officer & Director | Wholesalers | Wholesalers: Electronics and Office Equipment | Fremont | CA | http://www.synnex.com |
| 159 | PNC Financial Services | $19,993 | 51,996 | William S. Demchak | Chairman, President & Chief Executive Officer | Financials | Commercial Banks | Pittsburgh | PA | http://www.pnc.com |
| 160 | Danaher | $19,893 | 71,000 | Thomas P. Joyce Jr. | President, Chief Executive Officer & Director | Health Care | Medical Products and Equipment | Washington | DC | http://www.danaher.com |
| 161 | Hartford Financial Services | $19,827 | 18,500 | Christopher J. Swift | Chairman & Chief Executive Officer | Financials | Insurance: Property and Casualty (Stock) | Hartford | CT | http://www.thehartford.com |
| 162 | Altria Group | $19,627 | 8,300 | Howard A. Willard III | Chairman & Chief Executive Officer | Food, Beverages & Tobacco | Tobacco | Richmond | VA | http://www.altria.com |
| 163 | Bank of New York Mellon | $19,214 | 51,300 | Charles W. Scharf | Chairman & Chief Executive Officer | Financials | Commercial Banks | New York | NY | http://www.bnymellon.com |
| 164 | Fluor | $19,166.60 | 53,349 | Carlos M. Hernandez | Interim Chief Executive Officer | Engineering & Construction | Engineering, Construction | Irving | TX | http://www.fluor.com |
| 165 | Avnet | $19,036.90 | 15,400 | William J. Amelio | Chief Executive Officer & Director | Wholesalers | Wholesalers: Electronics and Office Equipment | Phoenix | AZ | http://www.avnet.com |
| 166 | Icahn Enterprises | $18,979 | 29,034 | Keith Cozza | President, Chief Executive Officer & Director | Financials | Diversified Financials | New York | NY | http://www.ielp.com |
| 167 | Occidental Petroleum | $18,934 | 11,000 | Vicki A. Hollub | President, Chief Executive Officer & Director | Energy | Mining, Crude-Oil Production | Houston | TX | http://www.oxy.com |
| 168 | Molina Healthcare | $18,890 | 11,000 | Joseph M. Zubretsky | President, Chief Executive Officer & Director | Health Care | Health Care: Insurance and Managed Care | Long Beach | CA | http://www.molinahealthcare.com |
| 169 | Genuine Parts | $18,735.10 | 50,000 | Paul D. Donahue | President, Chief Executive Officer & Director | Wholesalers | Wholesalers: Diversified | Atlanta | GA | http://www.genpt.com |
| 170 | Freeport-McMoRan | $18,628 | 26,800 | Richard C. Adkerson | Vice Chairman, President & Chief Executive Officer | Energy | Mining, Crude-Oil Production | Phoenix | AZ | http://www.fcx.com |
| 171 | Kimberly-Clark | $18,486 | 41,000 | Michael D. Hsu | Chief Executive Officer & Director | Household Products | Household and Personal Products | Irving | TX | http://www.kimberly-clark.com |
| 172 | Tenet Healthcare | $18,313 | 102,795 | Ronald A. Rittenmeyer | Chairman & Chief Executive Officer | Health Care | Health Care: Medical Facilities | Dallas | TX | http://www.tenethealth.com |
| 173 | Synchrony Financial | $18,253 | 16,500 | Margaret M. Keane | President, Chief Executive Officer & Director | Financials | Diversified Financials | Stamford | CT | http://www.synchronyfinancial.com |
| 174 | CarMax | $17,976.80 | 25,110 | William D. Nash | President, Chief Executive Officer & Director | Retailing | Automotive Retailing, Services | Richmond | VA | http://www.carmax.com |
| 175 | HollyFrontier | $17,714.70 | 3,622 | George J. Damiris | President, Chief Executive Officer & Director | Energy | Petroleum Refining | Dallas | TX | http://www.hollyfrontier.com |
| 176 | Performance Food Group | $17,619.90 | 15,000 | George L. Holm | Chairman, President & Chief Executive Officer | Wholesalers | Wholesalers: Food and Grocery | Richmond | VA | http://www.pfgc.com |
| 177 | Sherwin-Williams | $17,534.50 | 53,368 | John G. Morikis | Chairman & Chief Executive Officer | Chemicals | Chemicals | Cleveland | OH | http://www.sherwin.com |
| 178 | Emerson Electric | $17,408 | 87,500 | David N. Farr | Chairman & Chief Executive Officer | Industrials | Industrial Machinery | St. Louis | MO | http://www.emerson.com |
| 179 | NGL Energy Partners | $17,282.70 | 2,400 | H. Michael Krimbill | Chief Executive Officer & Director | Energy | Energy | Tulsa | OK | http://www.nglenergypartners.com |
| 180 | XPO Logistics | $17,279 | 100,000 | Bradley S. Jacobs | Chairman & Chief Executive Officer | Transportation | Transportation and Logistics | Greenwich | CT | http://www.xpo.com |
| 181 | EOG Resources | $17,275.40 | 2,800 | William R. Thomas | Chairman & Chief Executive Officer | Energy | Mining, Crude-Oil Production | Houston | TX | http://www.eogresources.com |
| 182 | Applied Materials | $17,253 | 21,000 | Gary E. Dickerson | President, Chief Executive Officer & Director | Technology | Semiconductors and Other Electronic Components | Santa Clara | CA | http://www.appliedmaterials.com |
| 183 | PG&E | $16,759 | 24,000 | William D. Johnson | President, Chief Executive Officer & Director | Energy | Utilities: Gas and Electric | San Francisco | CA | http://www.pgecorp.com |
| 184 | NextEra Energy | $16,727 | 14,300 | James L. Robo | Chairman, President & Chief Executive Officer | Energy | Utilities: Gas and Electric | Juno Beach | FL | http://www.nexteraenergy.com |
| 185 | C.H. Robinson Worldwide | $16,631.20 | 15,262 | Robert C. Biesterfeld Jr. | Chief Executive Officer & Director | Transportation | Transportation and Logistics | Eden Prairie | MN | http://www.chrobinson.com |
| 186 | Gap | $16,580 | 135,000 | Arthur L. Peck | President, Chief Executive Officer & Director | Retailing | Specialty Retailers: Apparel | San Francisco | CA | http://www.gapinc.com |
| 187 | Lincoln National | $16,424 | 11,034 | Dennis R. Glass | President, Chief Executive Officer & Director | Financials | Insurance: Life, Health (stock) | Radnor | PA | http://www.lfg.com |
| 188 | DaVita | $16,368.60 | 77,700 | Javier J. Rodriguez | Chief Executive Officer | Health Care | Health Care: Medical Facilities | Denver | CO | http://www.davita.com |
| 189 | Jones Lang LaSalle | $16,318.40 | 90,000 | Christian Ulbrich | President & Chief Executive Officer | Financials | Real estate | Chicago | IL | http://www.jll.com |
| 190 | WestRock | $16,285.10 | 45,100 | Steven C. Voorhees | President, Chief Executive Officer & Director | Materials | Packaging, Containers | Atlanta | GA | http://www.westrock.com |
| 191 | CDW | $16,240.50 | 9,019 | Christine A. Leahy | President, Chief Executive Officer & Director | Technology | Information Technology Services | Lincolnshire | IL | http://www.cdw.com |
| 192 | American Electric Power | $16,195.70 | 17,582 | Nicholas K. Akins | Chairman, President & Chief Executive Officer | Energy | Utilities: Gas and Electric | Columbus | OH | http://www.aep.com |
| 193 | Cognizant Technology Solutions | $16,125 | 281,600 | Brian Humphries | Chief Executive Officer & Director | Technology | Information Technology Services | Teaneck | NJ | http://www.cognizant.com |
| 194 | D.R. Horton | $16,068 | 8,437 | David V. Auld | President, Chief Executive Officer & Director | Engineering & Construction | Homebuilders | Arlington | TX | http://www.drhorton.com |
| 195 | Becton Dickinson | $15,983 | 76,032 | Vincent A. Forlenza | Chairman & Chief Executive Officer | Health Care | Medical Products and Equipment | Franklin Lakes | NJ | http://www.bd.com |
| 196 | Nordstrom | $15,860 | 74,000 | Erik B. Nordstrom/Peter E. Nordstrom | Co-President, Principal Executive Officer & Director | Retailing | General Merchandisers | Seattle | WA | http://www.nordstrom.com |
| 197 | Netflix | $15,794.30 | 7,100 | Reed Hastings | Chairman, President & Chief Executive Officer | Media | Entertainment | Los Gatos | CA | http://www.netflix.com |
| 198 | Aramark | $15,789.60 | 227,200 | Eric J. Foss | Chairman, President & Chief Executive Officer | Business Services | Diversified Outsourcing Services | Philadelphia | PA | http://www.aramark.com |
| 199 | Texas Instruments | $15,784 | 29,888 | Richard K. Templeton | Chairman, President & Chief Executive Officer | Technology | Semiconductors and Other Electronic Components | Dallas | TX | http://www.ti.com |
| 200 | General Mills | $15,740.40 | 40,000 | Jeffrey L. Harmening | Chairman & Chief Executive Officer | Food, Beverages & Tobacco | Food Consumer Products | Minneapolis | MN | http://www.generalmills.com |
| 201 | Supervalu | $15,679 | 23,000 | Sean F. Griffin | Chief Executive Officer & Director | Food & Drug Stores | Food and Drug Stores | Eden Prairie | MN | http://www.supervalu.com |
| 202 | Colgate-Palmolive | $15,544 | 34,500 | Noel R. Wallace | President, Chief Executive Officer & Director | Household Products | Household and Personal Products | New York | NY | http://www.colgatepalmolive.com |
| 203 | Goodyear Tire & Rubber | $15,475 | 64,000 | Richard J. Kramer | Chairman, President & Chief Executive Officer | Motor Vehicles & Parts | Motor Vehicles and Parts | Akron | OH | http://www.goodyear.com |
| 204 | PayPal Holdings | $15,451 | 21,800 | Daniel H. Schulman | President, Chief Executive Officer & Director | Business Services | Financial Data Services | San Jose | CA | http://www.paypal.com |
| 205 | PPG Industries | $15,374 | 47,300 | Michael H. McGarry | Chairman & Chief Executive Officer | Chemicals | Chemicals | Pittsburgh | PA | http://www.ppg.com |
| 206 | Omnicom Group | $15,290.20 | 70,400 | John D. Wren | Chairman & Chief Executive Officer | Business Services | Advertising, marketing | New York | NY | http://www.omnicomgroup.com |
| 207 | Celgene | $15,281 | 8,852 | Mark J. Alles | Chairman & Chief Executive Officer | Health Care | Pharmaceuticals | Summit | NJ | http://www.celgene.com |
| 208 | Jacobs Engineering Group | $14,984.60 | 77,600 | Steven J. Demetriou | Chairman, President & Chief Executive Officer | Engineering & Construction | Engineering, Construction | Dallas | TX | http://www.jacobs.com |
| 209 | Ross Stores | $14,983.50 | 88,100 | Barbara Rentler | Chief Executive Officer & Director | Retailing | Specialty Retailers: Apparel | Dublin | CA | http://www.rossstores.com |
| 210 | Marsh & McLennan | $14,950 | 66,000 | Daniel S. Glaser | President, Chief Executive Officer & Director | Financials | Diversified Financials | New York | NY | http://www.mmc.com |
| 211 | Mastercard | $14,950 | 66,000 | Daniel S. Glaser | President, Chief Executive Officer & Director | Financials | Diversified Financials | New York | NY | http://www.mmc.com |
| 212 | Land O'Lakes | $14,936.20 | 10,000 | Beth E. Ford | President, Chief Executive Officer & Director | Food, Beverages & Tobacco | Food Consumer Products | Arden Hills | MN | http://www.landolakesinc.com |
| 213 | Waste Management | $14,914 | 43,700 | James C. Fish Jr. | President, Chief Executive Officer & Director | Business Services | Waste Management | Houston | TX | http://www.wm.com |
| 214 | Illinois Tool Works | $14,768 | 48,000 | E. Scott Santi | Chairman & Chief Executive Officer | Industrials | Industrial Machinery | Glenview | IL | http://www.itw.com |
| 215 | Ecolab | $14,668.20 | 49,000 | Douglas M. Baker Jr. | Chairman & Chief Executive Officer | Chemicals | Chemicals | St. Paul | MN | http://www.ecolab.com |
| 216 | Booking Holdings | $14,527 | 24,500 | Glenn D. Fogel | President, Chief Executive Officer & Director | Technology | Internet Services and Retailing | Norwalk | CT | http://www.bookingholdings.com |
| 217 | CBS | $14,514 | 14,750 | Joseph R. Ianniello | President, Interim Chief Executive Officer & Director | Media | Entertainment | New York | NY | http://www.cbscorporation.com |
| 218 | Parker-Hannifin | $14,302.40 | 57,170 | Thomas L. Williams | Chairman & Chief Executive Officer | Industrials | Industrial Machinery | Cleveland | OH | http://www.parker.com |
| 219 | Principal Financial | $14,237.20 | 16,475 | Daniel J. Houston | Chairman, President & Chief Executive Officer | Financials | Insurance: Life, Health (stock) | Des Moines | IA | http://www.principal.com |
| 220 | DTE Energy | $14,212 | 10,600 | Gerard M. Anderson | Chairman & Chief Executive Officer | Energy | Utilities: Gas and Electric | Detroit | MI | http://www.dteenergy.com |
| 221 | BlackRock | $14,198 | 14,900 | Laurence D. Fink | Chairman & Chief Executive Officer | Financials | Securities | New York | NY | http://www.blackrock.com |
| 222 | United States Steel | $14,178 | 29,000 | David B. Burritt | President, Chief Executive Officer & Director | Materials | Metals | Pittsburgh | PA | http://www.ussteel.com |
| 223 | Community Health Systems | $14,155 | 78,500 | Wayne T. Smith | Chairman & Chief Executive Officer | Health Care | Health Care: Medical Facilities | Franklin | TN | http://www.chs.net |
| 224 | Kinder Morgan | $14,144 | 11,012 | Steven J. Kean | Chief Executive Officer & Director | Energy | Pipelines | Houston | TX | http://www.kindermorgan.com |
| 225 | Qurate Retail | $14,070 | 27,226 | Michael A. George | President, Chief Executive Officer & Director | Retailing | Internet Services and Retailing | Englewood | CO | http://www.qurateretail.com |
| 226 | Loews | $14,066 | 17,900 | James S. Tisch | President, Chief Executive Officer & Director | Financials | Insurance: Property and Casualty (Stock) | New York | NY | http://www.loews.com |
| 227 | Arconic | $14,014 | 43,000 | John C. Plant | Chairman & Chief Executive Officer | Aerospace & Defense | Aerospace and Defense | New York | NY | http://www.arconic.com |
| 228 | Stanley Black & Decker | $13,982.40 | 60,767 | James M. Loree | President, Chief Executive Officer & Director | Household Products | Home Equipment, Furnishings | New Britain | CT | http://www.stanleyblackanddecker.com |
| 229 | Textron | $13,972 | 35,000 | Scott C. Donnelly | Chairman, President & Chief Executive Officer | Aerospace & Defense | Aerospace and Defense | Providence | RI | http://www.textron.com |
| 230 | Las Vegas Sands | $13,729 | 51,500 | Sheldon G. Adelson | Chairman & Chief Executive Officer | Hotels, Restaurants & Leisure | Hotels, Casinos, Resorts | Las Vegas | NV | http://www.sands.com |
| 231 | Estee Lauder | $13,683 | 46,000 | Fabrizio Freda | President, Chief Executive Officer & Director | Household Products | Household and Personal Products | New York | NY | http://www.elcompanies.com |
| 232 | DISH Network | $13,621.30 | 16,000 | W. Erik Carlson | President, Chief Executive Officer & Director | Telecommunications | Telecommunications | Englewood | CO | http://www.dish.com |
| 233 | Stryker | $13,601 | 36,000 | Kevin A. Lobo | Chairman & Chief Executive Officer | Health Care | Medical Products and Equipment | Kalamazoo | MI | http://www.stryker.com |
| 234 | Kellogg | $13,547 | 34,000 | Steven A. Cahillane | Chairman, President & Chief Executive Officer | Food, Beverages & Tobacco | Food Consumer Products | Battle Creek | MI | http://www.kelloggcompany.com |
| 235 | Biogen | $13,452.90 | 7,800 | Michel Vounatsos | Chief Executive Officer & Director | Health Care | Pharmaceuticals | Cambridge | MA | http://www.biogen.com |
| 236 | Alcoa | $13,403 | 14,000 | Roy C. Harvey | President, Chief Executive Officer & Director | Materials | Metals | Pittsburgh | PA | http://www.alcoa.com |
| 237 | Anadarko Petroleum | $13,382 | 4,700 | R. A. Walker | Chairman & Chief Executive Officer | Energy | Mining, Crude-Oil Production | The Woodlands | TX | http://www.anadarko.com |
| 238 | Dominion Energy | $13,366 | 16,100 | Thomas F. Farrell II | Chairman, President & Chief Executive Officer | Energy | Utilities: Gas and Electric | Richmond | VA | http://www.dominionenergy.com |
| 239 | ADP | $13,325.80 | 57,000 | Carlos A. Rodriguez | President, Chief Executive Officer & Director | Business Services | Diversified Outsourcing Services | Roseland | NJ | http://www.adp.com |
| 240 | salesforce.com | $13,282 | 35,000 | Marc R. Benioff/Keith G. Block | Chairman & Co-Chief Executive Officer | Technology | Computer Software | San Francisco | CA | http://www.salesforce.com |
| 241 | L Brands | $13,236.90 | 57,200 | Leslie H. Wexner | Chairman, President & Chief Executive Officer | Retailing | Specialty Retailers: Apparel | Columbus | OH | http://www.lb.com |
| 242 | Henry Schein | $13,202 | 22,600 | Stanley M. Bergman | Chairman & Chief Executive Officer | Health Care | Wholesalers: Health Care | Melville | NY | http://www.henryschein.com |
| 243 | Newell Brands | $13,033.10 | 37,000 | Michael B. Polk | President, Chief Executive Officer & Director | Household Products | Home Equipment, Furnishings | Hoboken | NJ | http://www.newellbrands.com |
| 244 | Guardian Life Ins. Co. of America | $13,014.90 | 9,556 | Deanna M. Mulligan | President, Chief Executive Officer & Director | Financials | Insurance: Life, Health (Mutual) | New York | NY | http://www.guardianlife.com |
| 245 | BJ's Wholesale Club | $13,007.30 | 26,383 | Christopher J. Baldwin | Chairman, President & Chief Executive Officer | Retailing | General Merchandisers | Westborough | MA | http://www.bjs.com |
| 246 | BB&T Corp. | $12,996 | 35,852 | Kelly S. King | Chairman & Chief Executive Officer | Financials | Commercial Banks | Winston-Salem | NC | http://www.bbt.com |
| 247 | State Street Corp. | $12,973 | 40,142 | Ronald P. O'Hanley | President, Chief Executive Officer & Director | Financials | Commercial Banks | Boston | MA | http://www.statestreet.com |
| 248 | Viacom | $12,943 | 10,880 | Robert M. Bakish | President, Chief Executive Officer & Director | Media | Entertainment | New York | NY | http://www.viacom.com |
| 249 | Ameriprise Financial | $12,924 | 14,062 | James M. Cracchiolo | Chairman & Chief Executive Officer | Financials | Diversified Financials | Minneapolis | MN | http://www.ameriprise.com |
| 250 | Core-Mark Holding | $12,903.90 | 8,087 | Scott E. McPherson | President, Chief Executive Officer & Director | Wholesalers | Wholesalers: Food and Grocery | South San Francisco | CA | http://www.core-mark.com |
| Download the Fortune 1000 list to see # 251 to #1000 |   |   |   |   |   |   |   |   |   |   |